1994 E320 Coupe with 115K and 1995 S600 V12 Coupe with 104K
PLEASE DO NOT TRY TO CHECKOUT online to purchase. If interested please contact us through our contact page above. I know what you are thinking!  That is a huge sale price - but we just wanted to show you the difference between what these two cars cost new ( $136,000 for the S600 and $63,000 for the E320) and what Kent is asking for them together. These represent to many the height of Mercedes build quality and will become the collector cars of the future. We will show you some more pictures below and give you links to videos of these cars on YouTube.  Only currently offered as the pair together to a serious Mercedes enthusiast. PLEASE watch the videos and read the additional information below. If you have additional questions please email us.
Kent's 2 Mid 1990's Collector White Coupes for Sale
$199,000.00
Sale
$17,800.00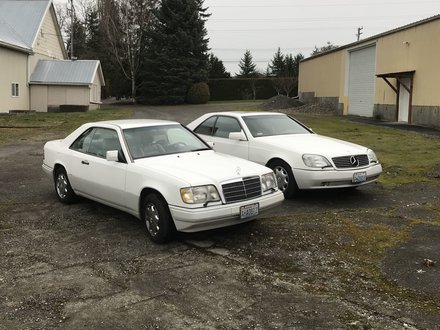 Product Details
Both these coupes have excellent bodies and paint. Both have been Northwest cars and have never been subjected to road salt.They are very clean underneath with no rust whatsoever. The paint on both does not have any cracking or crazing and polish to a high luster. Both coupes start, run, shift and drive superbly with no issues. Both have excellent above average interiors as you can see in the pictures and videos I have done. Even the driver's seats are in excellent condition.
I purchased the S600 from the second owner who purchased the car in 1998 for $98,000 from Mercedes of Bellevue ( car was originally sold there) It has always been garaged and only driven in nice weather. All the maintenance they had done over the years was done there and is on record. I have most of the printout and I think it's approximately $20,000. The major work done in the last 10,000 to 15,000 miles included all new wiring harness, complete rebuild of the fuel injection system (very expensive) and a new transmission. ) NOTE: Husband did not think it needed a new trans but it was his wife's car and she did not like the way it was shifting… :-) ). Even though this car has very low mileage it has been driven enough over the years to not have all the problems associated with those low mileage garage queens that just sit in the garage. ( be careful of buying those!)
I purchased the E320 coupe from the original owner locally. It is one of the cleaner W124 coupes I have ever seen. Always garaged and only driven locally. New brakes and new tires were installed shortly before I bought the car. I have installed all new Bilstein heavy duty shocks, new wiring harness, new valve cover gasket, new cabin filters and new spark plugs.
One of the things that makes these coupes so nice it that all the rubber trim and seals around the windows and doors are still very soft and have no cracks. This is a problem with these pillarless coupes because once the seals get hard you get a lot of wind noise and it is VERY expensive to replace and these seals. The S600 is the quietest car I have ever driven!
As far as things that need work the S600 climate control started acting weird about a year ago and on this last Mercedes Club cruise it starting having a mind of its own. This will need attention and is most likely the valve assembly will need to be resealed ( common problem and kits are available). I am currently checking to see if there are any issues on the E320. I will be checking both these cars over this coming weekend and will post any new findings here. 
As nice as these cars are please keep in mind they are not perfect. They are both approaching 25 years old. There may be things you will have to do to bring them up to your own level of desired appearance and performance. There is no warranty expressed or implied. You will need to arrange for your own transport. I can keep them stored for up to 30 days after purchase at no additional charge if the purchaser needs extra time to pick them up.  kentscarsforsale