May not be the best one in the world but close to it and certainly the cleanest unrestored engine compartment anywhere
Please do NOT try to check out by purchasing this car online.  If you are interested please email sales@mercedessource.com or use our contact page. We are happy to answer any questions you may have and can discuss payment and shipping options. This is a true high quality, highly collectible, and fast appreciating perservation Benz. If you have not seen what has been happening to prices for good 560SECs just do a quick google search and you might be amazed. Kent also has a playlist of videos he has done showing some of the maintenance and detail work he has recently done on the car. Car is ready to be picked up and driven anywhere.  Even the AC blows cold....
Kent's Pristine 1989 W126 Silver 560SEC for Sale
$16,800.00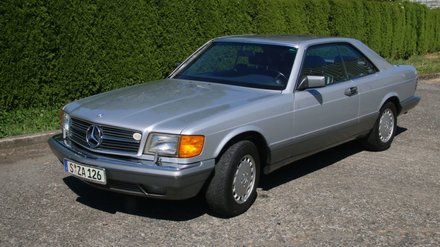 Product Details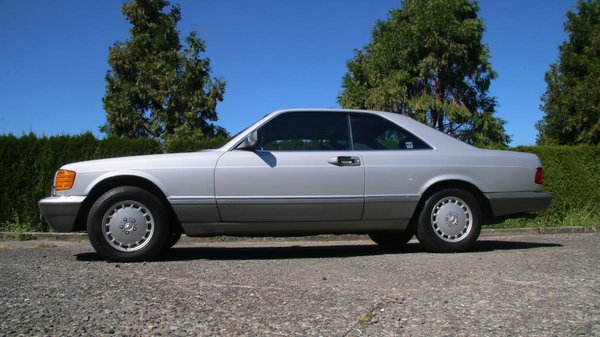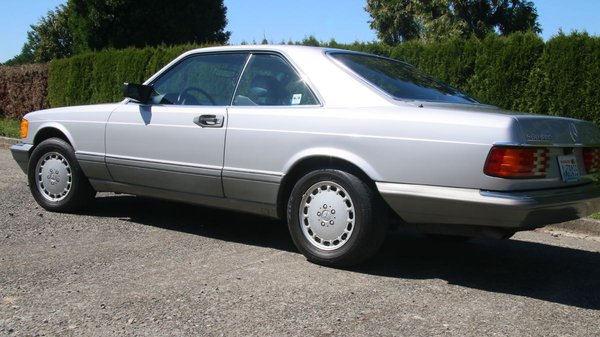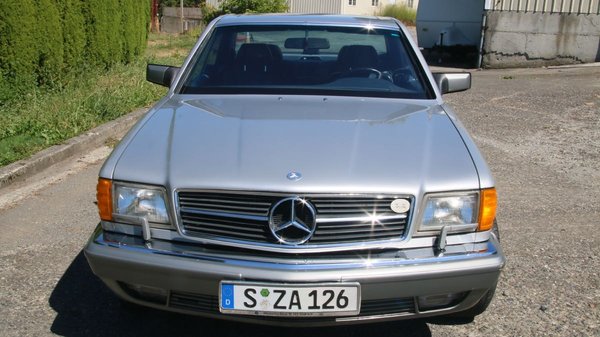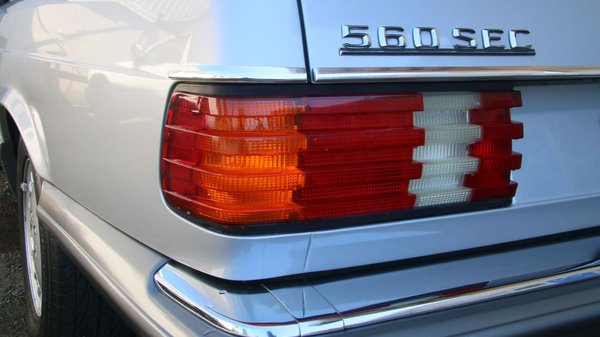 The previous owner was a Mercedes enthusiast from Germany who was living and working in the States. He purchased the car from the original owner in Seattle in 1998 and over the years he owned it, he drove it approximately 2 to 3 thousand miles a year. It has never been subject to road salt and he only drove it in good weather and kept it in a warm garage with a car cover on it. He only sold it to me because he had to move back to Germany and was not able to take the car with him. He was of course quite proud of the condition he kept it in and all the paper work he had to go with it.
He was heavily involved in the W126 German owners group as well as the Mercedes Benz Club of America and during the last 20 years he owned it he mainly used it to enter car shows and go to club shows and events. He did win a number of awards like best of show and best original example. The car is a prime candidate for showing in the "preservation class" ie. best original unrestored examples. 
Engine and engine compartment:  Closer to like new that you will see in any other original car 28 years old. All you have to do is watch my youtube videos. This is one car you can be sure to win some "best engine compartment" contests!
Interior: Not far behind engine compartment. All the leather is soft - no tears, no loose stitching, no heavily worn spots. Carpets and door panels are immaculate. No cracks in dash (not even tiny ones). and no cracks in any of the finish in the burl wood. Interior even smells good (no old car smell).
Paint and trim: The silver paint shines to a deep luster. I mean REALLY deep luster. There is no crazing or clear coat fading or peeling anywhere! The only dent in the car is a very small dent (about dime size) in the hood. There may be a half dozen or so small rock chips in the paint. The front edge of the bumpers have a couple very small scrapes through the top coat (you might be able to see these in the pictures). This is something that could be easily touched up for show.
Underneath the car: This is where you could have some fun. The car is so clean and rust free underneath, you could wash and detail under the car and put mirrors under it at the shows to really get some points! ( see video)
Mechanical: Mechanically I know of no problems currently with the car. The air conditioning blows cold, all power windows and sunroof work as they should, engine runs super smooth and transmission shifts like new. I would feel confident to drive this car cross country. Watch my videos to see what I have done to the car including new distributor cap, new power steering hoses, new SLS hose and SLS flush, power steering fluid flush with synthetic fluid, and rear suspension accumulators.
The car has a clean Washington State Title in my name for easy transfer.