This has to be the best way ever! See video below to believe... Sorry the first 20 already sold on the newsletter promo!
Kent has tried every method in the book to remove rusty and stuck fittings, bolts and nuts on older cars. This becomes a SUPER challenge when dealing with a car that has been subjected to road salt. He recently ran into this problem on a European model W126 and decided there had to be a better way.  Watch the video below to see why this tool was "invented!"
Kent's "Rust Buster" Tool for Loosening Rusty Stuck Fittings and Nuts
$59.95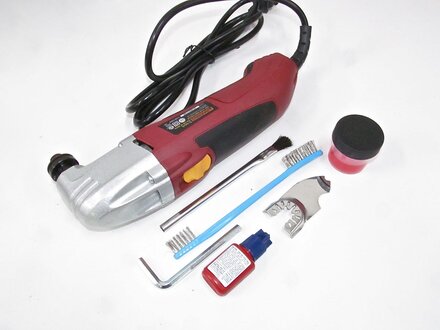 Product Details
The kit includes the following:
Single speed multi-tool
Special fabricated vibration impact head
Small sample of Kroil Oil
1 acid brush
1 sm. rust cleaning brush (design may vary)
Thread Locking compound
Detailed video instructions of the tool in action
Kent recommends using a less expensive dedicated multi-function tool for this purpose. It is going to take a beating but is well worth the price if you are able to just remove one rusting bolt or fitting that could have broken off!
If you are buying this kit you might consider buying our glass scratch removal kit and/or our anodized aluminum trim polish kit. The multi-tool in this rust buster kit with also work with BOTH kits. See related products below:
Search: multi-tool, multi tool, multi function, multifunction.
Related Products:
---