Fits late W123 240D 300D 300CD 300TD 1981 to 1985 - see picture of back side to make sure it is a match to yours.
LAST ONE IN STOCK. These are becoming very difficult to find in this condition. Many are leaking or weeping engine oil. Very good cosmetic condition as well.
Late 123 Engine Instrument Cluster - Used
$208.00
SKU:
INT-L123CLUS-MS3-AS1-USED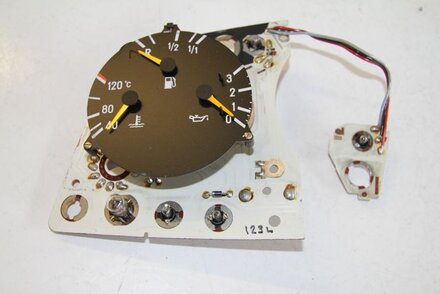 Product Details
Circuit boards can also fail to cause intermittent fuel and temperature gauge readings. The oil pressure gauge can leak oil. Before ordering please confirm wire plug Location. This one has a multipin wire plug near the bottom of the cluster. Older models have wiring plug towards the top.
Please do not order if you are not sure. Contact us first. Thanks