Please carefully review years and models that this kit fits. Includes 1995 E300D
Fits the following: 201 chassis 190E 2.3 and 2.6 and 190D 2.5 from 1987 to 1993. 124 chassis 260E, 300E, and 300TE from 1986 to 1989. Also fits 300CE 1988 and 1989. 126 Sedan 300SE and 300SEL 1988 to 1991 Also fits E300D 1995.  We are seeing more and more flex disk failures as all these chassis cars age. If are are hearing any clucking or ticking sounds under or in rear of your car you might have a flex disk that is loose or torn.
Late 201 Early 124 and 126 6 Cyl. Gas Driveline Flex Disk Kit with Instructions
$104.95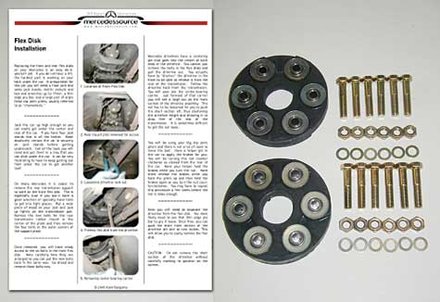 Product Details
Inspect and look for cracks in the rubber both at the front and rear of the driveline. If you see rust stains on the disk that means the bolt holes are wearing and may be loose. Even if they look ok the rubber may be hard and can cause driveline vibration. NEVER just replace the front disk. When they get hard they also get out of balance. Best to just replace them for both performance and peace of mind. Comes with PDF complete instructions to do the job yourself and save money. These are high quality disks with new bolts and washers included.
_______________________________________________________________________________
How to view the PDF digital instructions:
Once you complete the purchase of this product you will be able to download the digital instructions immediately when you are logged in and on your personal account page (click on My Account). Any PDFs will show up under My PDF Manuals. You will be allowed three downloads, so please save the file on your machine for backup.
_______________________________________________________________________________