Sometimes you just have to try it to believe what it can do - Limit one trial kit per customer.
USP GROUND SHIPPING ONLY: We can not ship overseas or to Alaska and Hawaii. If you order with other items your entire order must be shipped UPS ground. You will be supplied with enough Miracle Paint to do a couple small rust repairs either with or without the samples of fiberglass included. Find a small area under your car, under the carpets or in the trunk to do some "testing." Rust in the sunroof drain areas is a common problem, so I recommend you open your sunroof and find a spot or two of rust to coat. Watch the video below and Kent will explain why he is offering this kit. 
Small Rust Repair and Sample Miracle Paint Kit
$14.50
Sale
$10.00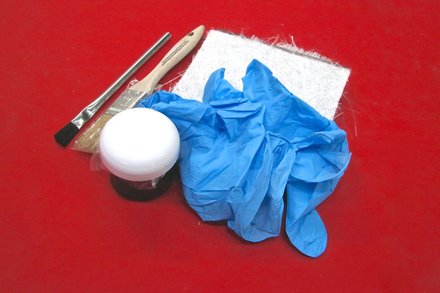 Product Details
The kit includes the following:
2 oz container of Heavy Duty Miracle Paint
3 types of fiberglass (6-inch squares approximate)
2 application brushes
I pair nitrile gloves
Please read: The container comes with a clear plastic to seal the lid. Do not leave the lid off for extended periods or the miracle paint with harden. When you put the cap back on reuse the plastic bag or use saran wrap or wax paper. If you do not use within 30 days keep in a refrigerator for extending its shelf life.
Warnings: Do not get on your skin or clothes. It will not come out of clothes and if you let it dry on your skin it will take weeks for it to come off. Always use gloves and apply with good ventilation.
Related Products:
---