You will be amazed how many uses you can find for these brushes!
Miracle Paint Application Brush Assortment - Also Great for Car and Engine Detailing
$8.95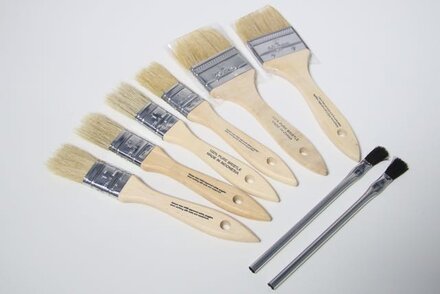 Product Details
When applying Miracle Paint never plan to clean and reuse the application brush. Even if you thoroughly clean it with lacquer thinner, you will be surprised when you come back the next day that the bristles of the brush are hard (they may look clean but they will not flex!). We have found that it is a waste of time to even try. So, don't buy expensive brushes... 
We recommend inexpensive paint and acid brushes for application. This is why we include them in many of our Miracle Paint kits. If you need extras, we have put this inexpensive brush kit together for you. These also make excellent cleaning and detailing brushes as demonstrated by Kent it a number of his videos.
Order multiple sets so you never run out restoring your old Benz.
Kit contents:
2 two inch wide paint brushes
4 one inch wide paint brushes
2 quality acid brushes
Related Products:
---