An assortment of hoses and fittings to help fix your vacuum leaks - General service and repair kit - does not contain all hoses and fittings you may need!
Kent recently replaced all the engine compartment rubber vacuum hoses and connectors in his own 300SDL and was amazed at the difference. Engine shut off quicker, transmission shifted better, and engine ran smoother. :-) Many of the hidden connectors were in really bad shape (although they did not look that bad until removal). He had to remove the air filter housing to get to some of them. Be sure and check out his video as he explains the procedure and the results.
OM 601 602 603 Diesel Engine Universal Vacuum Line and Connector Service Kit
$32.75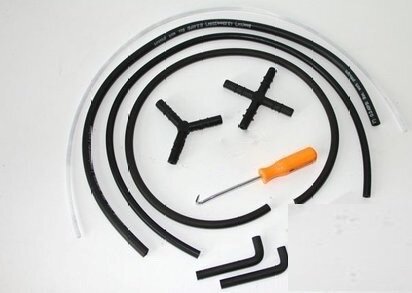 Product Details
IMPORTANT WARNING: This vacuum service kit DOES NOT contain every single length and size of hose, fitting and connector that is located in the engine compartment of these diesels. If your all your hoses and fittings need to be replaced you will need to purchase more (maybe 2 or 3 of these kits). You can also purchase hose and connectors separately (see related products).  This is a good assortment to get you started fixing some of the vacuum leaks in your engine compartment.  Also, some connectors like the very small Y connector on some engines are no longer available. 
Please review the picture carefully. You will receive three different sizes of rubber hose and the connectors and pick tool as shown. Here is a summary list of this kits contents:
Three different ID sizes of vacuum hose each piece 24 inches long
One 24  inch length of vacuum plastic hard line
One X connector
One Y connector
Two 90 degree long elbows
Two short 160 degree elbows
One pick tool to help remove your old connectors
NOTE:   Look your own engine compartment over first then check to picture above to see if this might be applicable to the fittings and hoses in your engine. This kit can be used on most 1984 to 1993 190D, 1986 to 1993 300D and 300TD, 1986 and 1987 300SDL, and the 1990 and 1991 350SD and 350SDL. It may or may not work as well on the E300D and the S350. Due to the amount of work that goes into putting this kit together please only order if you know it will work for your application.