Kent's favorite - Cleaning glass, paint surfaces, critical metal surfaces for proper sealing and other uses
Kent uses these superb plastic razor blades regularly in his shop. Recently they proved very useful when resealing the magnesium engine breather covers on an M113 engine. There are seven green and three orange in this little package. The green have a super sharp chisel edge and the orange have a blunt edge with rounded corners. Once you start using these you will find all kinds of uses for them. REMEMBER !!!  These are plastic and don't last very long with heavy scraping, BUT they will protect your critical glass, paint, and metal surfaces. 
Plastic Razor Blades 10 pc. Assortment
$1.95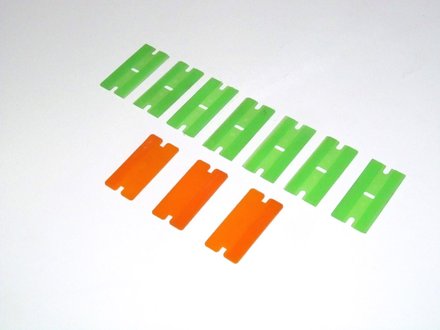 Product Details
Green have unique chisel edge is perfect for powering through stuck adhesive residue on windows and paint.

Remove stickers, decals, labels, latex paint drips and more from many different surfaces.

Remove pitch and road tar from paint and glass
Orange have flexible plastic bulldozer edge
PLEASE NOTE: For heavy duty scraping these will fit in most regular single edge razor blade holders.