Manual by Kent Bergsma: Book 5 of a 5 Book series
During his years of working on diesel engines, Kent has learned a few things about glow plugs. Some he learned the easy way and others he learned by "pain and suffering." If misunderstood or improperly maintained, glow plugs can be the "achilles heal" of a diesel.
Pre-Glow Systems Tips, Quick Tests and Upgrades - All Diesels 1960 to 1993
$9.95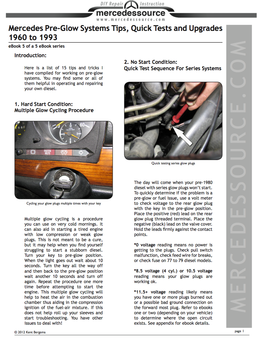 Product Details
In this eBook he shares tips he has learned along with improvement upgrades you can make on your own diesel to improve pre-glow system efficiency. This manual is 14 pages in length with a total of 31 pictures and printed on 8.5x11 paper. It is also available in a PDF format if you would like to purchase and immediately be able to download. Please see below to view.
Book 1 in the series - Mercedes Diesel Pre-Glow Series System Testing 1960 to 1979 
Book 2 in the series  - Mercedes Pre-Glow Parallel Systems Testing 1978 to 1993 
Book 3 in the series - Mercedes Glow Plug Replacement Procedure Manual for 1960 to 1985 Diesels 
Book 4 in the series - Mercedes 60x Parallel Glow Plug Replacement 
Related Products:
---