Bonus second fluid capture tank included - kit will speed bleeding or fluid flushing process
This special brake bleeding and fluid flushing accessory kit was designed by Kent Bergsma to work with his custom made one gallon pressure brake bleeder. The bleeder tank includes a pressure gauge and quick pressure release fitting. Please see related products below for more information on this pressure tank. 
Pressure Brake Bleeding Ultimate Accessory Kit
$36.95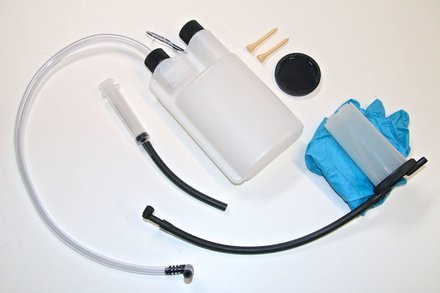 Product Details
This kit comes with the following: Please note instructions are not include but complete pressure bleeding PDF manual is included with you purchase the pressure brake bleeder.
Large twin chamber brake fluid capture tank ( click here for more detail )
Small brake fluid capture tank with hose to attach to caliper bleed fitting
Small suction syringe with hose to remove excess fluid from brake reservoir
Two golf T fittings to plug capture tank and extractor syringe from leaks
Two pairs of nitrile gloves
Pressurized brake system flushing or air-in-system bleeding is the preferred method, particularly on older cars where you would want to avoid damaging the seals in an old master cylinder by NOT pedal pump bleeding or on newer ABS equipped cars where pressure bleeding is the only reliable way to make certain you get all the air out of your ABS controller and brake lines.
The two fluid capture tanks included can be attached to two brake calipers at the same time to speed the flushing process ( do both rear calipers at the same time then do both fronts at the same time). Please note: The brake fluid extraction syringe included in the kit is for removing old brake fluid from the master cylinder before you connect the pressure tank. PLEASE NOTE: this syringe is for one time use only, as brake fluid can swell the rubber very quickly inside the syringe. You may be able prolong its use by coating the rubber with silicone dielectric grease and always quickly cleaning the syringe after use. 
APPLICATION: This kit works on all passenger car models from 1968 to 1995 It also works on the following models from 1996 up through 2002 as well as the S Class W220 all the way up to 2006 Note: Will not work on the W211 chassis with SBC (sensotronic brakes)
Mercedes-Benz 500SEC

Mercedes-Benz 500SEL
Mercedes-Benz 600SEC
Mercedes-Benz 600SEL
Mercedes-Benz 600SL
Mercedes-Benz C220
Mercedes-Benz C230
Mercedes-Benz C240
Mercedes-Benz C280
Mercedes-Benz C32 AMG
Mercedes-Benz C320
Mercedes-Benz C36 AMG
Mercedes-Benz C43 AMG
Mercedes-Benz CL500
Mercedes-Benz CL55 AMG
Mercedes-Benz CL600
Mercedes-Benz CLK320
Mercedes-Benz CLK430
Mercedes-Benz CLK55 AMG
Mercedes-Benz E300
Mercedes-Benz E320
Mercedes-Benz E420
Mercedes-Benz E430
Mercedes-Benz E55 AMG
Mercedes-Benz G500
Mercedes-Benz S320
Mercedes-Benz S350
Mercedes-Benz S420
Mercedes-Benz S430
Mercedes-Benz S500
Mercedes-Benz S55 AMG
Mercedes-Benz S600
Mercedes-Benz SL320
Mercedes-Benz SL500
Mercedes-Benz SL600
Mercedes-Benz SLK230
Mercedes-Benz SLK32 AMG
Mercedes-Benz SLK320
Here is a picture bleeding the brakes on a 2000 E430.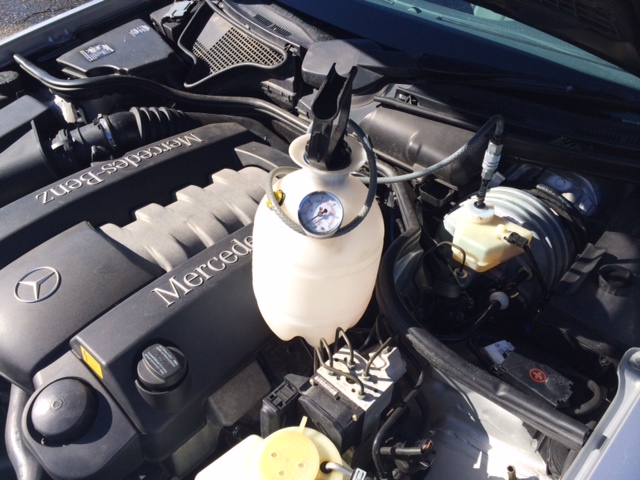 See related products below for other brake bleeding and flushing DIY products:
Related Products:
---