Tool kit now sold separately so you can "build" your own custom lube kit
Applying grease and other lubricants to various parts of your Mercedes can be a messy and frustrating job. Especially if you can not get the lube exactly where you want it! Kent has put together a kit of his favorite applicator tools. We also have these tools in our lube starter kit or you can purchase the applicators separately and buy our larger containers of moly grease, synthetic grease and high dielectric silicone grease. You can easily get your own automatic transmission fluid.
Preventative Maintenance: Application Tool Kit for Various Lubricants
$12.95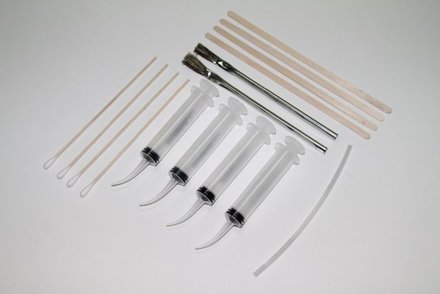 Product Details
This little applicator kit contains the following:
4 curved tip syringes
4 special lint free long tip applicators
4 wood flat stir and applicator sticks
2 acid brushes
One piece plastic hose to extend the reach of a syringe (plugs right on to the tip of the syringe)
The purchase lubricants separately please look below.
Related Products:
---