This is one cool kit...
It has been said, "An ounce of prevention is worth a pound of cure" and so it is when working on older cars. Over the years I have seen so many component failures and other problems related to lack of lubrication that I am on a quest to rid the old car world of this malady. I see failures and problems with door check straps, window regulators, door catch assemblies, hood hinges and latches, sunroof cables, sunroof slide and lift mechanisms, door and window seals, seized spark plugs, brake problems and on it goes. 
Preventative Maintenance Lubrication Starter Kit - Rx for your Benz
$32.50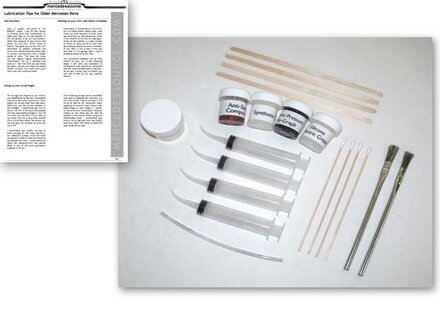 Product Details
My goal was to come up with a handy and compact kit for the DIY mechanic that would allow him or her to easily apply a number of different types of oils and grease without having to go out and buy big cans  that may or may not ever get used. At the heart of this kit are 4 curved tip syringes. Who would have believed these could be turned into the perfect tool for applying small amounts of grease in tight and hard-to- reach places. Yes the grease will go through their tips, but for the heavier ones you many need to cut a small amount of the tip of the syringe off to get the grease to flow more easily. We even include a 6 inch piece of small hard plastic hose to you can add as an extension on the end of the syringe when you really have to get into a tight place!
This kit contains the following four grease compounds which are Kent's favorites. Each one comes in a 1/2 ounce screw lid container. The first three are full but the anti-seize in only half full (1/4 once). You will need very little anti-seize in most instances. I know it seems that 1/2 ounce is not very much but you will be amazed at how far it will go when applied properly. The only place you really need a LOT of grease is in wheel bearings and old suspension grease fittings. In those cases it is best to go out and buy a grease gun cartridge. This kit is intended to grease those components that never get any attention but when neglected can cause big problems.  Along with the grease you will get small stir sticks to be used to transfer the grease from the containers into the syringes. Learn to be a "grease master" and save $$$ by avoiding some very costly repairs.
NOTE: To keep the cost of this kit low Mercedes Genuine sunroof grease is not included. That can be purchased separately (just type sunroof grease in the search box or look below). Kent feels that the new generation of synthetic grease on the market today can match the performance of the Mercedes grease. 
If you do need "refills" we will be selling larger amounts of the first three greases in 2 ounce containers. Here is a summary of the characteristics of each one.
1. Moly High Pressure Grease: This grease is best applied to those areas that are subject to extreme pressure and subject to water. Ideal inside doors on the gear teeth of the wiindow regulators and on the ball slides of the door check straps. Also on hood and door latches. This is of course ideal for wheel bearings but you will need three to four ounces to redo both front wheels. Use the syringe to inject inside the rubber on old ball joints and tie rod joints that may have dried out. 
2. Synthetic Grease: This grease is amazing. It is the most stable grease in extreme temperature variations and does not gum up and harden with age. Does not attract dirt and grime as badly as other greases. Since it is non-petroleum based it can be used almost anywhere and is not as visable as moly grease. Ideal for seat tracks, door striker pins, plastic window slide assemblies, sunroof cables and sunroof slides (when Mercedes genuine sunroof grease is not available).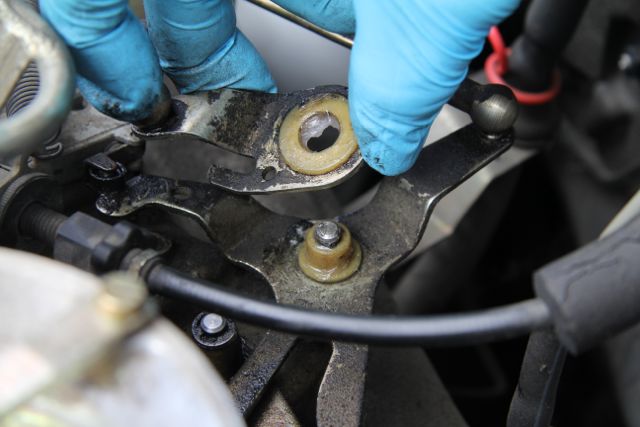 3. Silicone High Dielectric Grease:  This should be put on all your light bulb sockets. On cars 20 years or older every electric plug in the car should come apart and the pins coated with this to prevent weird electrical problems. Especially on engine compartement sensors, computers and relays. Use silicone grease anywhere you want to lube plastic parts as it does not harm or swell plastic. Wipe this grease on your door and truck seals to keep them from cracking due to age and to make your doors and trunk oper easier.
4. Anti-Seize Compound: This compound should be used anytime you are threading a steel bolt into an aluminum threaded housing. Like the water pump to water pump housing bolts or the thermostat housing bolts. This will prevent dissimilar metal corrosion. Always use when installing steel bolts through aluminum arms. Like the alternator brackets on the old diesels. Also great for spark plugs and glow plugs to prevent seizing and gallling upon removal. Great for brake parts. You only need a very thin film to prevent corrosion but this is a must have compound.
Kent's other favorite lubricant is automatic transmission fluid. We do not ship that but we do include an extra empty container so you can keep your own transmission fluid or engine oil handy with this kit.
ALSO INCLUDED: Nitrile gloves, a couple acid brushes, 4 special lint free long tip applicators, flat stir and applicator sticks and usage tips. Kent includes PDF instrucitons along with tips and how to set up your regular lubrication schedule.  
_______________________________________________________________________________
How to view the PDF digital instructions:
Once you complete the purchase of this product you will be able to download the digital instructions immediately when you are logged in and on your personal account page (click on My Account). Any PDFs will show up under My PDF Manuals. You will be allowed three downloads, so please save the file on your machine for backup.
_______________________________________________________________________________
Related Products:
---