For 123 Chassis 300TD, 201 Chassis 190E 16V and 126 Chassis 560SEL. This SLS manual was written specifically for 123 300TD wagon owners, but also applies to the models mentioned above, 300TDs from 1979-1985 and other chassis above up to 1990. If you own or are planning to purchase one of these popular wagons, I guarantee at some point you will have to deal with the SLS (Self Leveling Suspension) system. PLEASE NOTE: If you have a 1987 to 1995 124 chassis wagon this manual will only cover basic principles of troubleshooting. It does not cover the pump or the rear sway bar which are different on 124 wagons.
Self Leveling Suspension, Theory, Troubleshooting, Maintenance by Kent Bergsma
$18.95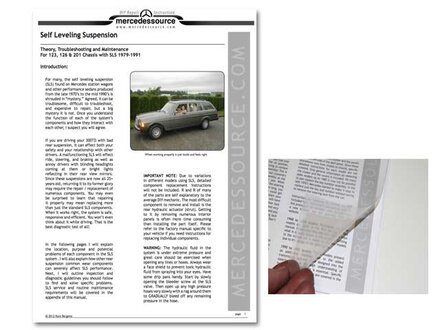 Product Details
These systems are all 25 plus years old and any number of key components can fail leaving you with a rough ride, sagging rear end and poor handling. The first step to repairing a faulty SLS is to understand how it works. Proper troubleshooting requires a thorough knowledge of each component and how they all work together.
This 16 page manual (bound with a smudge proof cover) will help remove the "mystery" by walking you through the theory of operation, common problem areas, troubleshooting steps to isolate the cause quickly, and routine maintenance and adjustment. Following the guidelines laid out in this manual can save you from spending big $$ by not throwing parts at the problem.
PLEASE NOTE:  This is a troubleshooting and service guide. It is not a full repair manual.  Due to variations in different models using SLS, detailed component replacement instructions will NOT be included.  Removal and replacement of many of the parts are self explanatory to the average DIY mechanic.  The most difficult component to remove and install is the rear hydraulic actuator (strut).  Getting to it by removing numerous interior panels is often more time consuming than installing the part itself.  Please refer to the factory manual specific to your vehicle if you need instructions for replacing individual components.