Silicone grease if often too thick and won't penetrate - Silicone spray if often too thin and the over-spray gets on everything...
What is the alternative? Have you ever seen silicone oil? It is not all that common but with this "kit" you can make your own and you can vary the thickness (viscosity) yourself. This is not rocket science so no extra instructions are included. The description that follows will give you enough information to experiment with this product on your own. Sorry, due to spray can we include, we can only ship this kit via UPS ground. Unfortunately, we can not ship internationally either.
Silicone Oil D.I.Y. Mixing Kit
$22.75
Sale
$16.00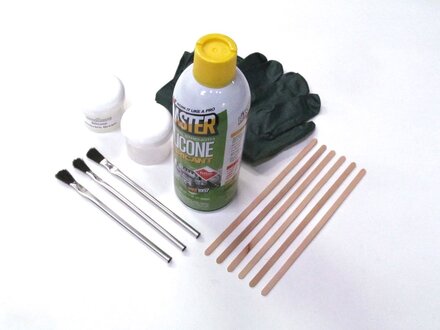 Product Details
This is what is included in the kit:
1 - spray can of what Kent feels is the best spray silicone available for the price ( all are NOT created equal
1 - 2 oz. container of silicone dielectric grease
1 - 2 oz. an empty container for mixing your own oil
6 - wood mixing sticks
3 - application brushes
1 - a pair of thick green nitrile gloves to keep the "stuff" off your hands
INSTRUCTIONS: Begin by mixing a very small amount of "oil" in the empty container provided. This will allow you to experiment on some small rubber parts. The mixture will thicken up over time as some of the solvents from the spray evaporate off. Keep the lid on and tight as much as you can after mixing and after application. Put a half a teaspoon of the grease in the container and then carefully and slowly add some silicone spray ( approximately the same amount of slightly less. Use a wood stick to thoroughly mix the two together. This may take a while so just keep stirring! Use a small brush supplied in the kit to pul the oil of some rubber parts you want to protect or you want to not stick or squeak ( like a door or trunk seal). Add more grease or spray to adjust the thickness to your liking. Do not be afraid to experiment. Use on rubber seals, window channels, and rubber bushings when installing. Put a coat on our rubber motor mounts to prolong the life of the rubber and prevent damage from diesel fuel or engine oil.  Have fun!  The stuff works!
Related Products:
---