Set up for duel heat source to mount in a W116, W123, or W126 Diesel - NO INSTRUCTIONS
This cast iron pipe "sump heater" is designed to mount in the spare tire well of your diesel Mercedes and heat the vegetable oil as it exits the factory fuel tank. It can be heated both by coolant from the engine ( will require running hoses to the back of the car ) and/or an electric glow plug heater ( will require running wiring to the back of the car. Watch the video below for more detail.
Small SVO WVO Conversion Trunk Mount Fuel Small Sump Heater USED
$95.00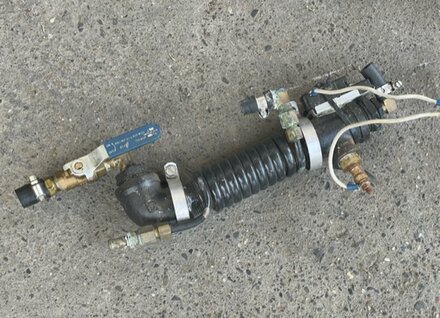 Product Details
IMPORTANT PLEASE READ CAREFULLY: This is an old unit that was pulled off a Benz a few years back. It was in good working condition, but due to sitting, it will. need a very thorough cleaning ( alcohol works the best on old dried veggie oil ). Since no instructions are included, you must be familiar with vegetable oil conversions in order to install and operate this unit. NO tech help will be provided. Please do not ask. If you have watched the video above, this should help with some insight into its intended use. 
Due to this, it is being sold for a very attractive price. NO TECH SUPPORT, No warranty, and NO return on this item. 
Related Products:
---