1979 to 1980 450SEL 300SD 450SL - All 123 chassis 240D 300D 300TD 300CD. Also fits 1975 300D
High Quality aftermarket brake pad set (for both front brakes). We include new brake sensor wires, Genuine Mercedes brake pad paste, and a 9 page install instruction booklet. You will love how these pads seat in and wear. They have a good feedback feel at the pedal.
Some 107 116 ALL 123 and 126 Chassis Front Brake Pads Installation Kit
$39.95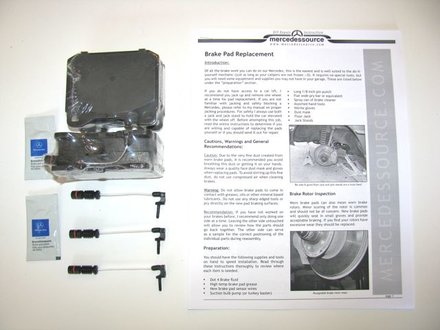 Product Details
WARNING: These pads only fit certain years on some chassis.  YOU MUST verify your vin number if you have a 116 or 107 chassis  If you are not certain email us before ordering!!!
107 Chassis 350SL and 450SL only after vin # 107.044 - from 062585 and higher.
DOES NOT fit 560SL
116 Chassis 450SE 450SEL 280SEL only after vin # - 116.033 - from 096584 Fed, - from 096390 Cal and higher
116 Chassis 300SD only after vin #  Turbo; From 10/79, 116.120 - from 014084 Fed, - from 014085 Cal and higher
Fits all 123 chassis 240D 300D 300CD 300TD 280E and 280CE 1977 to 1985
_______________________________________________________________________________
How to view the PDF digital instructions:
Once you complete the purchase of this product you will be able to download the digital instructions immediately when you are logged in and on your personal account page (click on My Account). Any PDFs will show up under My PDF Manuals. You will be allowed three downloads, so please save the file on your machine for backup.
_______________________________________________________________________________