Applies to all Mercedes, PON FIN P55 Pre 1960, 190SL, 110, 111, 112, 113, 114, 115, 108, 109, 107, 116, 123, 126, 201, and 124 chassis. Boy is it nice to find quality tools that do not break the bank.
Spark Plug Gap Tool - Quality by Bosch
$13.25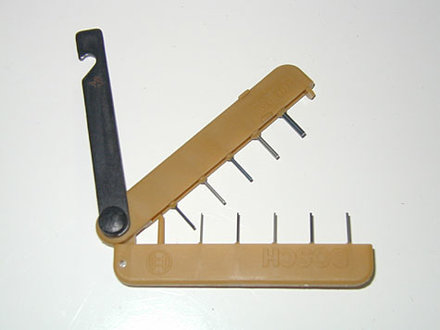 Product Details
I have been gaping spark plugs for close to 50 years and this is the best gaping tool I have ever seen. Are you familiar with those cheap ones you get for a couple bucks at the local auto parts store. When you try to bend the spark plug electrode the tool bends instead! This is a high quality tool made by Bosch and it works. Not only does it accurately measure all the common gaps but the way it allows you to set the gap is superb. And on top of that it really looks cool.