Ideally suited for 116 123 and early 126 diesels 1977 to 1985 - will work on others see description
PLEASE NOTE: This kit is custom built to order and will take 4 to 5 days to ship from the time your order in placed. NO EXPEDITED SHIPPING. The STC 100 builders kit is the heart and soul of all our vegetable based fuel conversions. Its key VFM (Veg Fuel Manager) component is central to every kit we offer. You will need to read all the text that follows to fully understand what this kit will do, what it takes to install it, and how you can modify / upgrade it to operate more efficiently in cold weather. This is not like anything your average SVO conversion company sells. It is easy to build and to install, but reading is a prime requirement for understanding how it can work for you in your climate.
STC 100 Single Tank Straight Vegetable Oil ( SVO ) Conversion Kit
$475.00
Sale
$425.00
Optional Bonus! Include these items for free: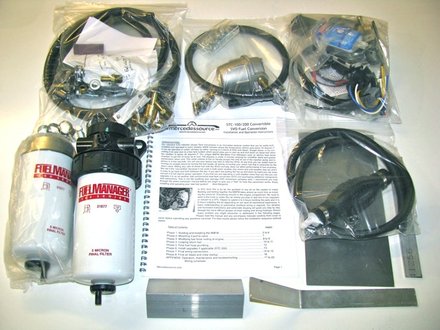 Product Details
NOTE:Due to high cost of building these kits we only assemble after an order is placed. Please allow ONE WEEK before we ship. Do not order with other items or entire order will be held up. Shipping cost is based on this kit being shipped separately anyway.
DEFINITIONS:
STC 100 stands for basic Single Tank Conversion: This means you can operate with the factory tank to hold your vegetable oil fuel. No second tank is required. 100 is our entry level kit. To learn more what this all means see below:
VFM designates the component module that properly filters, heats and routes the SVO fuel. This single compact module does it all and is easy to service, maintain and repair.
SVO WVO designates Straight Vegetable Oil (new oil) or Waste Vegetable Oil (collected from restaurants).
Builders Kit means you will have to build some of the major components of this kit before you install them in your diesel. This includes assembly the heat chamber, finding material and building brackets to fit your model, mounting filter and boost heater to bracket, and completing the necessary wire and plumbing modifications. There may be some clamps and small hardware you will have to purchase on your own. This will save you money as well as allow you to modify the kit to fit in many different models of Mercedes up to 1993.
PERFORMANCE:
The STC 100 modular component system is well suited for running SVO (Straight Vegetable Oil) in warmer climates or when you do not want to add the second fuel tank. This easy to install kit will convert your Mercedes diesel to run efficiently on WVO (Waste Vegetable Oil) in locations where the temperature seldom gets below 40 degrees F without modifying the fuel or your driving habits. When it gets cold or when you run out of WVO you can mix in diesel in any ration directly into the tank to thin the oil. At any time you can run on straight diesel or biodiesel without trouble. All you have to do is turn off the electric fuel heater at the VFM and reroute your return fuel by changing the position of the fuel return valve.
You can even use this kit if you are using only biodiesel. When running on B100 in colder climates you can change the routing on the fuel hoses to heat the biodiesel BEFORE it goes into the FM100 5 micron filter. This will increase horsepower and extend filter life by eliminating waxing in the filter element.
Our unique VFM (Veg Fuel Manager) uses an electric heat boost chamber to get the oil temp up to over 150 degrees in under 2 minutes allowing for smoother starts and quicker acceleration when cold. This initial volume of hot oil literally purges the cold oil out of the injection pump and injectors in a few seconds.
KIT CONTENTS:
The STC 100 includes the following components shipped as a full set along with the instruction manual set. Each component is also available separately if you are building your own or trying to increase the performance of any existing conversion.
FM 100 SVO Filter Kit: To read more or to purchase separately put this title in the search box.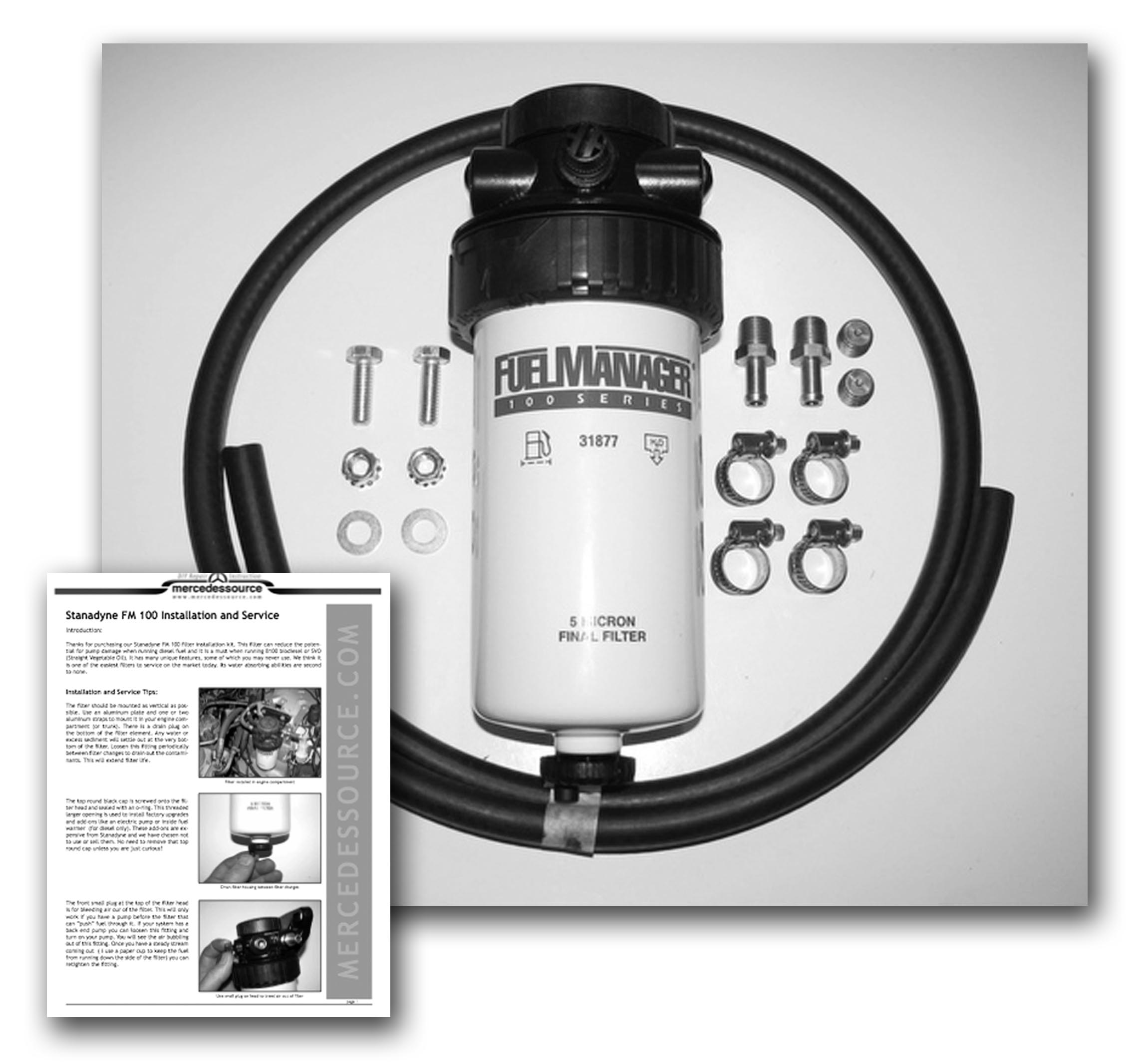 Filter Plate Mounting Kit: To read more or to purchase separately put this title in the search box.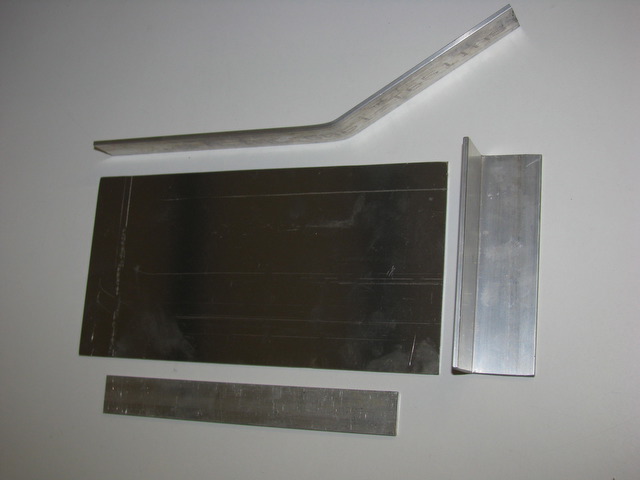 SVO WVO High Performance Electric Fuel Boost Heater Kit: To read more or to purchase separately put this title in the search box.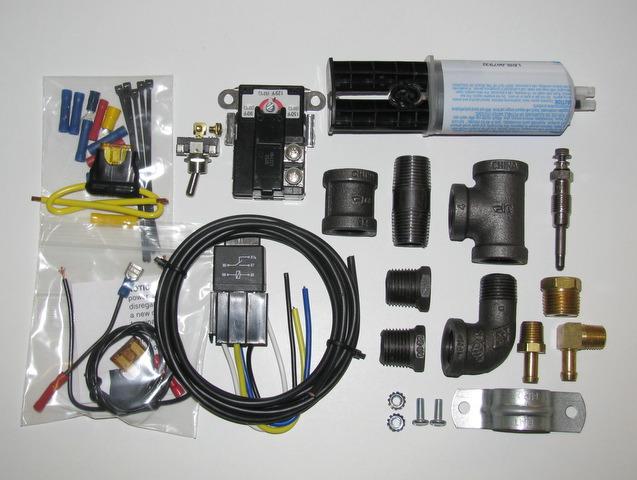 SVO Loop Fuel Valve Installation Kit: To read more or to purchase separately put this title in the search box.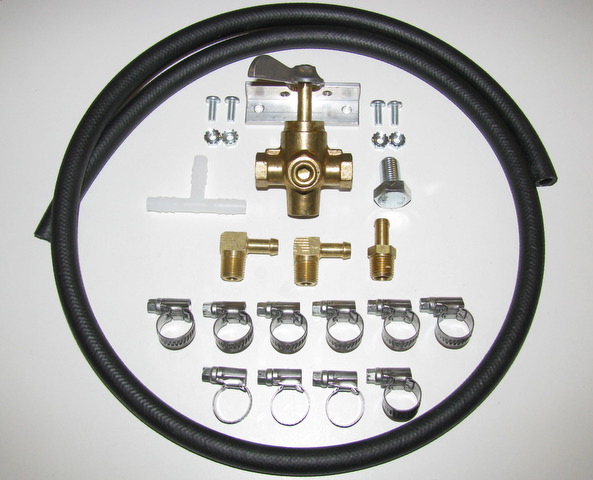 SVO Cleanable Metal 60 Micron Final Fuel Filter: To read more or to purchase separately put this title in the search box. 
SVO WVO Conversion Mounting Bolt Kit: To read more or to purchase separately put this title in the search box.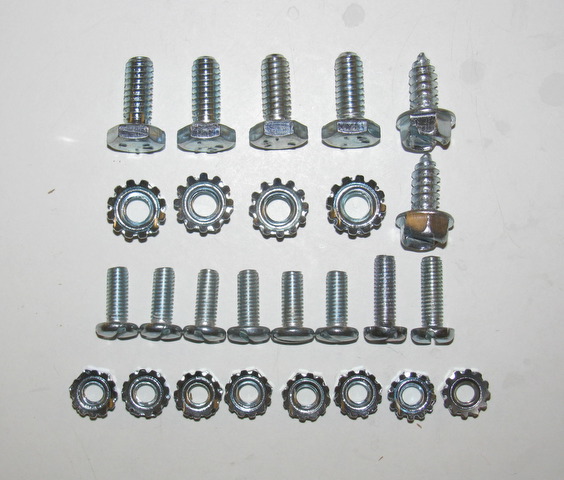 Hand Bulb Air Bleed Pump for SVO WVO Fuel Filter: ONLY available in STC 100 Kit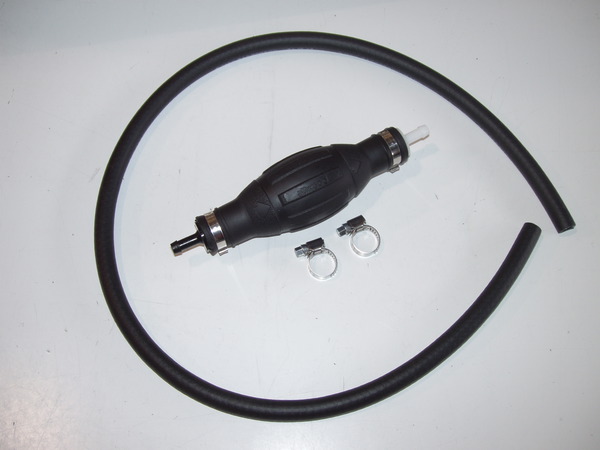 BONUS with full kit purchase - 5 Micron SVO Filter Repalcement: To read more or to purchase separately put this title in the search box.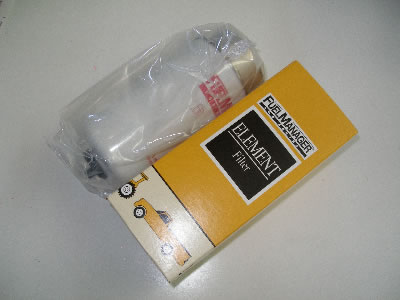 Complete Installation Manual Set:  Includes diagrahms and operations and troublehooting guide. Not Available for purchase separately.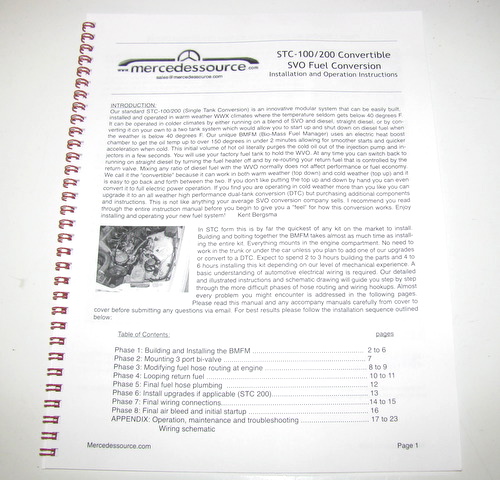 Installation Notes: In STC form this is by far the quickest of any kit on the market to install. Building and bolting together the BMFM takes almost as much time as installing the entire kit. Everything mounts in the engine compartment. No need to work in the trunk or under the car unless you plan to add our heated fuel path upgrade or convert to dual tanks. Expect to spend 2 to 3 hours building the parts and 4 to 6 hours installing this kit depending on our level of mechanical experience. An basic understanding of automotive electrical wiring is required. Our detailed and illustrated instructions and schematic drawings will guide you step by step through the more difficult phases of hose routing and wiring hookups. Follow the instructions carefully and you will have success!
ADDENDUM: SUMMARY OF INSTALLATION MODIFICATIONS REQUIRED FOR DIFFICULT CHASSIS
The instructions that come with the STC 100 kit are written for and photographed when installing kits in 116, 123 and early 126 300SD diesels. The kit can be installed in other models but you will have to deal with some "issues" and modify the instructions to fit your application. The specific "issues" for each chassis are listed below:
110 AND 115 CHASSIS SEDANS: This is one of the more challenging diesels to convert primarily due to the location of the battery. It takes up the ideal space where you could mount the SVO components near the injection pump. Even if you mount the filter in the trunk there is still hardly enough room to mount the BMFM on the left side of the engine. The best solution is to move the battery to the trunk. That will require running a very heavy battery cable back up to the starter inside/under the vehicle. Even with the battery in the trunk you will need to modify the brackets of the BMFM and may need to remove the filter from the plate and mount it alongside. No instructions are available specifically for the 110 and 115 chassis and you will need to do some drilling and fabrication on your own . Please remember the picture manuals are for the 123/126 diesels and will require interpolation on your part. Basic fuel routing and hookup is of course the same. If you do not want to move the battery you can mount the components on the right side of the engine but this will require a long fuel hose run to the injection pump with the potential for cooling off of the oil during migration. You could offset this some some by insulation your fuel hoses. You will be on your own when dealing with these remote mount issues. For this type of conversion above average mechanical skills are a MUST.

1985 300TD WAGON: The 1985 300TD with trap oxidizer has the hydraulic rear suspension oil tank mounted on the left side where our BMFM is normally mounted. My recommendation is to move this hydraulic tank forward to where the window washer reservoir tank it and then get a smaller after market washer tank and mount is somewhere remotely. This should give you enough room to mount the BMFM but you still may have to do some modification and drilling of the bracket assembly due to a tight fit.

1984 TO 1989 201 CHASSIS 190D. Space if very limited in the 201 190D so you will need to get really creative. General instructions will be included to help with fuel hose routing , etc but you will be on your own when it comes to where and how to mount the filter, heater, and valve. You may have to separate the components. Creativity and ingenuity are needed for the 190D.

1986 to 1991 126 Diesels, 1987 124 CHASSIS 300D AND 300TD and 1990 TO 1993 300D 2.5. These models have adequate space in the bay between the ABS unit and the window washer tank, but my brackets will still not bolt in without some lengthening and additional modification on your part. You may even have to pick up some extra aluminum. We can supply you will an extra aluminum mounting plate and brackets for a nominal fee if you want to have extra materials on hand when you modify the mounting. We can even supply you with a custom bracket to mount the WVO filter in the right side trunk well if you would rather go that route. Please enquire if interested.

HOW TO GET MORE INFORMATION. We have other guides and manuals available that can help you.
If you would like to learn more about collecting and filtering waste cooking oil please read our guide Collecting and Filtering Waste Cooking Oil
If you would like to learn more about the pros and cons of single tank vs. dual tank conversions please read SVO Advanced Theory and Operations
If you would like to learn more about finding the right Mercedes diesel to convert please read our Mercedes Diesel Buyer's Survival Guide
ADDITIONAL STC PERFORMANCE UPGRADES AND ADD ONS (Not included in this kit): Search the titles below to go directly to these components.
Electric Blanket heater for FM 100 filter
Electric Boost Fuel pump for better performance and longer filter life
Related Products:
---