Must ship your steering lock assembly to us. NEW LOCK ASSEMBLIES ARE NO LONGER MADE (NLA). We must be able to turn the key upon receipt for this service to apply.
PLEASE READ CAREFULLY: This service is currently only available for the 1981 to 1985 W123 and W126 AND you MUST have a key that still turns in the lock. If your key is stuck or broken off, It is extremely more difficult to repair it, if at all.  It will also cost considerably more money. Please email us if you have a "STUCK" key and we will see what we can do to help. Do not check out and pay here if your key will not turn.
Sticking Key and Steering Lock Repair Service 1981 to 1985 240D 300D 300CD 300TD and 300SD
$218.50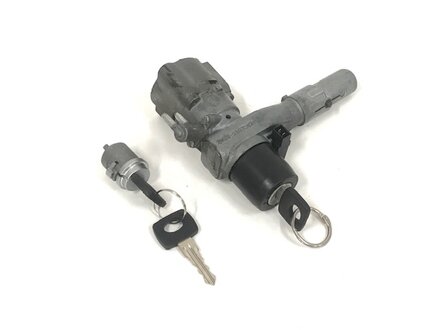 Product Details
New steering locks for ALL  models up to 1995 are no longer being made and we have learned there are no plans for them to go back into production. There may be a few new old stock lurking around but they are pretty much gone worldwide. We still have some W116 and early R107 steering locks available but no more W123 or W126. So what is a person to do when they have a sticking or stuck ignition key? We can all agree that is a pretty BIG problem. So we decided here to help by providing our customers with a repair service for their used and worn out steering lock assemblies.
WARNING: You should have your steering lock repaired at the VERY FIRST SIGN of your key catching or sticking inside the tumbler. For those of you who have an old Benz that you plan to keep for a long time we recommend you do this repair now BEFORE the problem starts - Because Kent has learned how to modify the original steering lock to eliminate the common internal problem these locks have after repeated use. 
HOW THIS WORKS: You will add this service to your shopping cart and check out and pay. After check out, you will receive instructions on how to remove the complete steering lock assembly from your car (via PDF direct to your account).  Remove and send your working steering lock assembly to us complete with key or keys. We will repair the lock and install a new tumbler assembly with new keys. You can not use your old key or tumbler as they are often part of the problem. Turn around time to repair it is usually 3 to 4 working days. We will return it to you as soon as possible via the shipping method you chose at checkout.
On the rare occasion we determine your steering lock assembly is damaged beyond repair, we will return it to you and refund you the full purchase price of the repair less the shipping amount you were charged at checkout. You will receive an email from us that it is begin returned to you as soon as it ships.