Non Cutting and smooth tightening clamps
These are my favorite German hose clamps. They tighten securely, dont cut into the hose, and don't rust or break. If you are working on the fuel system of any Mercedes I recommend you have these clamps on had. Just get rid of those old rusty Phillips head screw clamps or worse yet - the US style clamps with holes that cut into the rubber. These clamps will work on all 8 mm hose, 5/16 and 3/8 US spec fuel or coolant hose.
Super Fuel Hose Clamp Kit (12) - German Made - High Torque
$28.50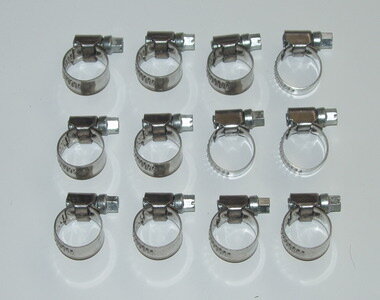 Product Details
For use with our all fuel specification super flex hose. Great to have on hand if you are planning to build your own diesel to SVO conversion.
If you are building your own alternative fuel system be sure to check out our special non barbed fittings that should be used with these clamps. DO NOT used barbed fittings or you will be very very sorry! Use our search box just type in brass fitting or brass fittings. 
Related Products:
---