Very low power usage lights - can be run on a small 12 to 15 volt battery
This is the light bar setup for Kent's Superlight. Other attachments and accessories can be purchased separately (see related products below) or you are welcome to build or obtain your own stand. Includes two powerful swivel head L.E.D. 12 volt lights, custom aluminum bar, and 2 switches - Stands sold separately
Superlight LED Shop Light Twin Light Bar Kit
$52.95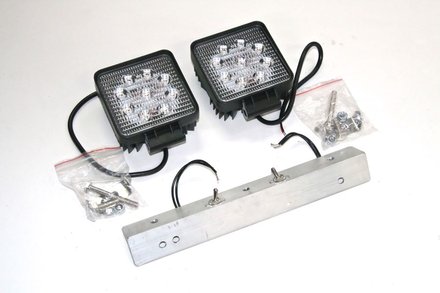 Product Details
Watch the videos above to see this light bar in action on three different mounts. Also you will see two different small batteries that can be used as well as a hookup to the car's battery or cigarette light ( no connectors are included in this kit)
Two switches are included to wire each light separately to the battery. No additional wiring, connectors, or instructions are included with this light bar kit. What you see in the picture is what you get. You need to be able to wire this to your liking with the connectors of your choice. We have included self locking nuts which are a big help in preventing the lights from loosening up on the bar and flopping around. 
You will need to supply your own switch, wiring, and battery. NO instructions included. The Superlight works on any DC battery from 11 to 14 volts.  I use 3 and 4 cell lithium polymer batteries ( 3200 to 6000 MAH) that power my model airplanes. These batteries require special chargers and care in handling to prevent fires. These batteries can also be easily ruined if you let them go completely dead.  It you are not familiar with model RC batteries then I recommend you purchase a small 12 volt AGM battery (motorcycle size)  that can be charged with a normal charger. If small enough a small AGM battery can sit in one of my revolving tray attachments ( see video)
Here you see the Superlight bar wired and mounted to our custom bench mount stand with two swivel trays. 
Related Products:
---