What to expect when converting your Mercedes diesel to run on waste cooking oil
SVO WVO Conversion Advanced Theory and Operations Manual by Kent Bergsma
$16.95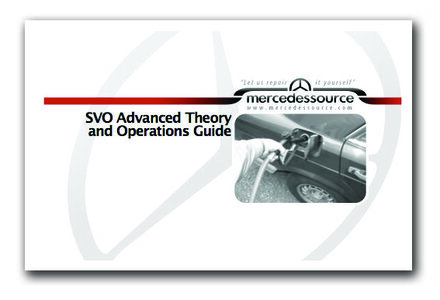 Product Details
This is a must read for anyone who is currently running or seriously thinking about running his or her Mercedes 200D 220D 240D 300D 300CD 300TD 300SD 300SDL or 350SD on straight vegetable oil (SVO). It has been said that knowledge is power. This is really true when running on SVO / WVO. If you do not have any knowledge of how your system works or what needs to be done to maintain it, then you are going to literally lose your power. Any system will only be as reliable as YOU make it. Even if you plan to have your mechanic install your components, learn as much as you can during the installation process and then plan to keep abreast of future developments in this fledgling field. A full understanding of how your system is installed and operates is the best Rx for avoiding trouble down the road.

In this book I will share with you a good dose of theory, components needed to complete your conversion, installation procedures, and operating tips that should help you get the most out of your conversion. I will also cover the potential risks to your engine and the additional maintenance you will need to perform to prevent "problems down the road." Keep in mind that this is NOT an installation instruction manual. I would rather call it an information manual and its purpose is to inform you in broad terms what is required to convert and operate your diesel on straight vegetable oil fuel. I begin with some theories on viscosity, heat and filtering, discuss in detail the differences between a single tank and dual tank conversion, and then move into the kit options available and steps required to install and operate one successfully. For easy review the appendix includes the same Q and A that I have posted on my website.

Table of Contents:
Chapter 1:

SVO

advanced theory of operation
Chapter 2: Types of

SVO

conversions
Chapter 3: Conversion components and modifications required
Chapter 4: Vehicle operating procedures and troubleshooting
Chapter 5: Maintenance considerations
Appendix: Q and A - final warnings - additional resources

If you are building or considering building your own kit then the information contained here should be a good resource. If you already own a Mercedes Diesel and are considering purchasing a Mercedessource kit, then this guide should help you decide if converting is something you really want to do. As an older Mercedes diesel owner, you will be pleased to know you have the distinct advantage of having the option for a single tank conversion. Yes, that is correct!  In my opinion Mercedes Benz has the only diesel engine that can safely and effectively operate on SVO alone. Their rugged engines with pre-chamber combustion and inline mechanical fuel injection pump are well suited to startup and run on vegetable oil alone in warmer weather. In fact, I know of no other automotive diesel engine that can tolerate SVO as well as an older Mercedes! This manual will explain how this can be done!