One only clearance item - no instructions
This is a completely assembly SVO fuel heater that uses a glow plug to heat the fuel. The mounting bracket is designed for the OM603 and OM602 diesel engine passenger cars. It mounts the heater vertically between the ABS unit and the window washter tank. You can mount our Stanadyne FM 100 filter to the other side of the bracket. fuel comes into the heater at the center fitting and leaves the heater at the top ( hot fuel rises!)
SVO WVO Fuel Boost Heater and Bracket for 1986 to 1993 300D 300TD 300SDL
$89.00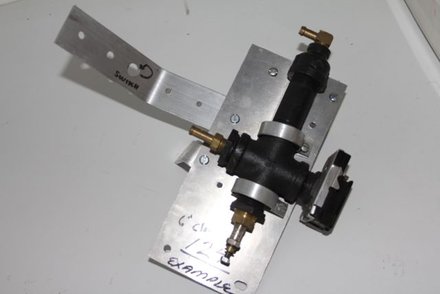 Product Details
It does have extenstions to mount switching valve and other components. Comes with a thermostat attached but no other wiring or relays are included. Bracket is about 9 inches tall and 4 inches wide not including the extension for the switching valve or valves. 
DISCLAIMER: Please keep in mind this is a clearance item. It is not returnable. We are not able to answer additional questions or give any technical support to how you use this product in your own diesel. We RECOMMEND that only those who have done or are familiar with SVO WVO conversions purchase this product. 
INSTRUCTIONS: No instructions are included.