New old stock clearance item - must be assembled - LAST ONE!
This unit is designed to fit into the spare tire well along the right side of the spare tire. A 1/2 inch fuel hose upgrade feeds fuel by gravity from the bottom of the fuel tank into the sump heater. A copper coil coolant heater then heats the fuel before it moves up the fuel line to the engine. A sump heater eliminates the condensation problems associated with heater the WVO fuel inside the tank. This is best suited for Mercedes diesels 1977 to 1985 including the 240D 300D 300CD and 300SD. The unit measures about 13 inches long by 4 inches high.
SVO WVO Trunk Mount Fuel Sump Heater
$85.00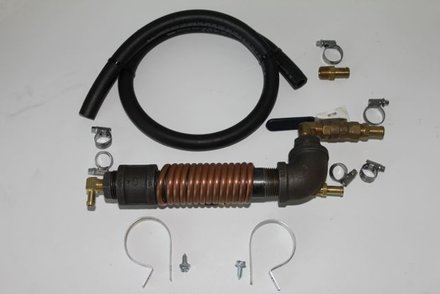 Product Details
You will need to run coolant from the engine back to the trunk to heat this unit. It is also recommended you use an auxiliary electric fuel pump to assist "pushing" fuel as it leaves this heater up to the engine compartment. 
All the fittings on this unit are loose and assembled only for reference. It will need to be taken apart and exposed together to prevent leaks. Fittings are for 3/8 inch coolant hose and 1/4 inch fuel hose out. All fittings and clamps are included as well as mounting straps. a 1/2 inch hose is included to run from your fuel tank to the sump heater. Instructions on how to modify your fuel tank outlet screen are included and well as general instructions on how install it in your spare tire well. PLEASE NOTE: remember complete SVO install instructions are not included. This is only one component of a cold weather system. Only experienced SVO installers should purchase this product.
DISCLAIMER: Please keep in mind this is a clearance item. It is not returnable. We are not able to answer additional questions or give any technical support to how you use this product in your own diesel. We RECOMMEND that only those who have done or are familiar with SVO WVO conversions purchase this product. 
INSTRUCTIONS: No instructions are included other than those specifically mentioned above.