In 50 plus years Kent has tried Hundred's - This is his all time favorite!
Our kit comes with a free micro fiber cloth! This is an advanced water based polish that is made in Germany. Kent has witnessed first hand some amazing results on his own cars and wants to share this excellent product with you. 
Ultimate Car Polish for Almost Any Surface
$24.50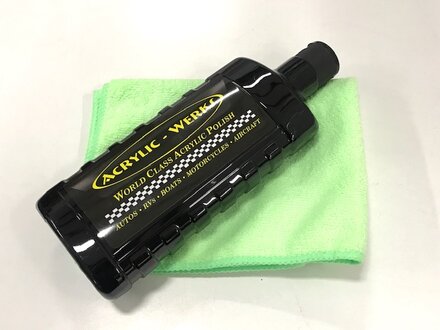 Product Details
If you have not heard about it before let Kent introduce you to Acrylic - Werks. It comes in a 16 oz / 500ml bottle and is more that enough to do two or three large cars. The amazing thing about this product is that it just does not polish paint. It polishes rubber trim, metal trim, chrome, plastic and even glass. Be sure to see the results of Kent polishing his 2009 Smart Fortwo on YouTube. 
The bottle has full instructions printed on the back. One of the neat things about being water based is it can be applied with a wetted cloth making both application and buffing go much faster. You can also mix a small amount with water to provide a wash/wax solutiong to brighten the paint between major applicaitons. CAN ONLY SHIP UPS GROUND.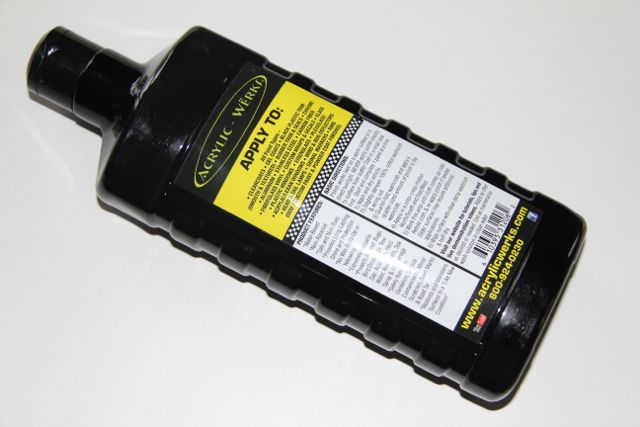 Acrylic-Werks Polish is a unique acrylic-based cleaner/polish/restorer that REALLY works. It is made in Germany and has been on the market since 2000. When using it on your car, there is almost no surface that you can't use it on-from painted panels to cloudy headlights (with some exceptions) to trim and plastic pieces to the interior dash. You'll find that Acrylic-Werks is a product that, with the proper and easy application, will restore your automobile to like-new condition. These same restorative properties apply to boats, aircraft, RV's, and motorcycles. It has so many uses on so many different surfaces, that it's hard to describe them all. That is one of the attributes that makes this product so unique. You no longer need a bucket-full of products to clean and restore various surfaces for automobiles, motorcycles, boats, RVs, and even airplanes. One product for all surfaces will produce long-lasting results that will be impressive.
I am sure you have all seen them...the late night commercials where people set cars on fire, magically remove scratches, and promise spray-on/wipe off results that seem to make your car look new again. At best these are temporary. At worst, these are products that don't work and these companies are betting that you are too lazy to request a refund. Granted, you do have to "polish" with this product but it does not require a power buffer like some. This product actually restores the surface (within reason) to it's original condition. It is NOT a temporary "shine quick" product. It may not be quite as easy to apply as some waxes, (which it is not) but the results will far out perform ANY wax on the market in terms of shine and durability.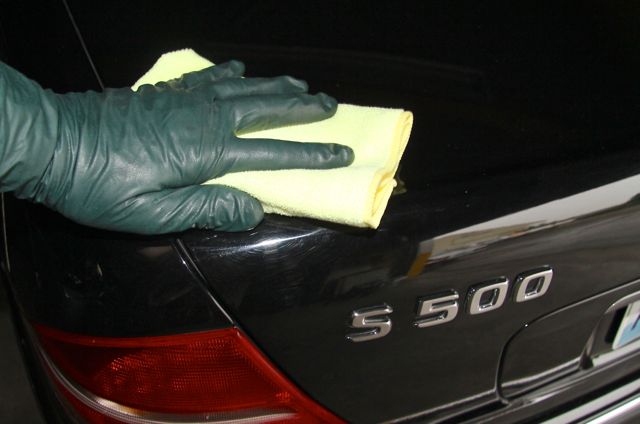 THIS IS NOT A WAX. It will not yellow or stop working after a couple of days or weeks. It is an acrylic polish that leaves a clear protective coating on almost any surface to which it is applied. And the best feature of all, it lasts for a long time....4-6 months in most cases, sometimes longer depending on the conditions. MANY OTHER USES: This product does a great job on boats, RV's,motorcycles, and ATV's which are subject to intense damage from the sun and/or salt water. It will get rid of that dull chalky look on your boat or RV (inlcuding rubber surfaces) and restore the finish to the condition it was in when first purchased.
Related Products:
---