Factory remanufactured replacement engine with less than 70,000 miles
I removed this engine from a 1975 300 D ( with fit directly into the 1975 or 1976 W115 300D sedans ). Talk about a super running engine. I remember it would start even without glow plugs! This was a factory replacement for the previous owner who only drove the car about 65,000 miles after this engine was installed. I have kept it trying to find the "perfect" 300D but I have given up on that "dream." This will also fit into the early W123 1977 to 1979 300D with modifications .
W115 300D Diesel Engine with VERY Low Miles
$1,650.00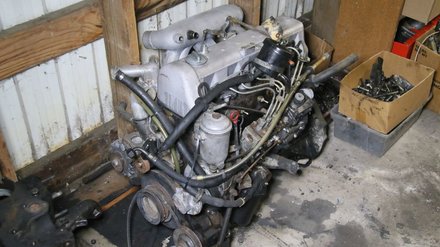 Product Details
Comes mostly complete and ready to install except for the starter motor. 
NO SHIPPING: This engine must be picked up at our shop in Bellingham, Washington. We just do not have the time to hassle with shipping or the problems associated with it. When you come it pick it up personally, we can load it into your trailer, pickup, Suburban, or Expedition with our engine hoist but it will not be on a pallet. You will need to bring along your own straps to tie the engine down.
Keyword search for all Kent's used and new old stock treasures he has collected and is now selling: treasure or treasures.