Fits 1978 and 1979 engines - DOES NOT WORK - Missing Vacuum Pod - for parts only
These are good used parts that are not worn out. You can use these to fix another VCV. Two instructional videos are included. One to show you how to install it and adjust the linkage rod.  You will also receive a free on-demand video showing you how to text a VCV for proper operation.
W116 300SD VCV Vacuum Control Valve Body and Actuation Rod
$58.00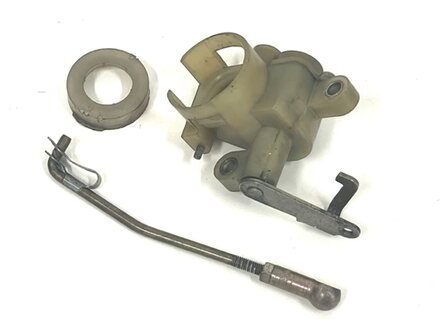 Product Details
If you need instructions on further tuning and vacuum output adjustments,  you will need Kent's VCV adjusting kit that includes the needed vacuum guage as well as complete tuning manual on diesel automatics. This 120+ page manual will cover other shift related topics as well. You will also need to make sure your diesel has a strong and leak free vacuum system for this valve to work properly. Check out Kent's Vacuum Source Troubleshooting manual.  Please refer to related products for additional help.
WARNING: YOU MUST LOOK at your existing VCV BEFORE ordering this part. Look at the arm coming off your VCV. It must be straight and look exactly like the one pictured. If yours has a curved arm coming off the valve to hold the rod then this part will NOT work. DOUBLE CHECK BEFORE ORDERING! Yours must look like the picture below:
Missing the vacuum pod as shown here: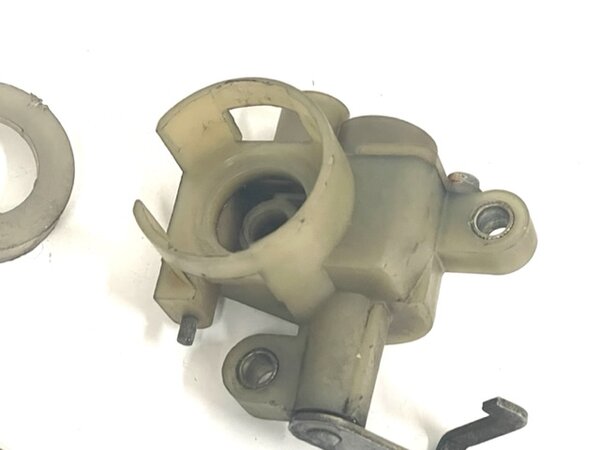 See related products below for the VCV that will fit the 1980 to 1984 W123 and W126.
Related Products:
---