2 handles with custom installation tools and complete video instructions
The plastic seat adjustment handles are now one of the most common failure items on all 116 chassis sedans from 1973 to 1980 and all 123 chassis sedans, wagons and coupes from 1977 to 1985. It is just the nature of old plastic. If they are not broken now they probably will be in the future. These handles will fit the front or side levers on either the right or left seats. This is an almost exact design for the side "pull" handle. It will also work on the front adjustment handle but the angle will be different from the original. These are designed to bolt on to the levers without having to remove or take apart the seat.
W116 W123 Front Seat Adjustment Handle Replacement / Installation Kit
$49.35
Product Details
The side handle adjusts the height of the seat and the front handle adjusts the position fore and aft. When the side handle is broken off it is impossible to lift the lever to adjust the seat by hand. These handles will bolt right onto the existing metal adjusting lever. All you have to do is take a chisel or break off all the old original handle to expose the slotted hole in the bar. Then take this new handle and bolt it on to the existing hole. This is a very clever design and is much stronger than the original. Very easy to install. STRONGER than the original. The video instructions included with this kit will give you detailed instructions on how to use the specials tool to replace both a side and front adjustment handle.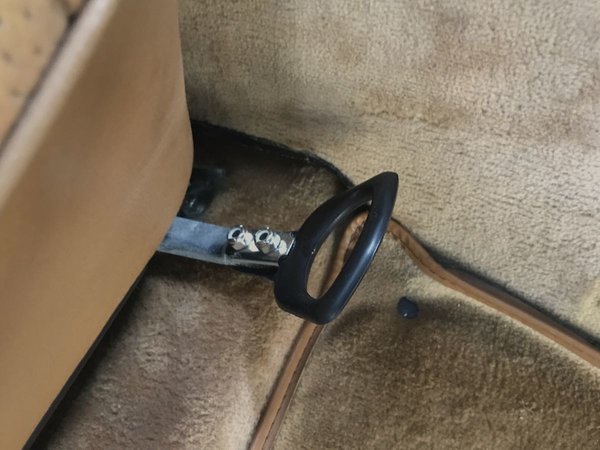 NOTE: Kent recommends if you use your W123 or W116 for a daily driver you should go ahead and just replace all handles now. You will have to "break off" any that appear good in order to expose the metal lever holes to bolt on the new handles. Additional handles can be purchased separately. See related products below:
Related Products:
---