BRIGHT WHITE COLOR: Increase brightness substantially without increasing heat! Comes with free video
The dash lights on these older models have never been super bright and on the 123 chassis they have been down right dim - even with new bulbs and a new potentiometer. LED bulbs have arrived and are solving old problems in many applications - particularly concerning heat and power consumption. 
W123 W126 W201 W124 LED Dash BRIGHT WHITE Replacement Bulbs ( Set of 2 )
$12.95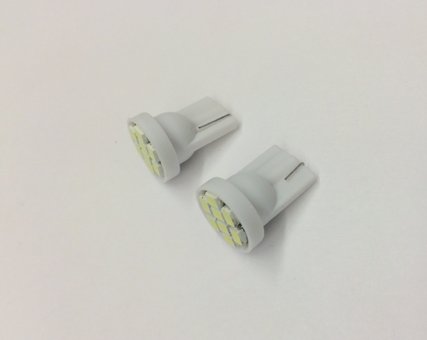 Product Details
Now there is an LED bulb that you can install in the back side of your instrument cluster that will amaze you. The light will be brighter and whiter!   All the chassis models mentioned above use 2 bulbs to illuminate the dash at night. These are direct replacements but have to be installed a certain way to work properly. You will receive a free video Kent filmed on how to properly install the bulbs in the bulb holders and how to modify the bulbs to reduce maximum light intensity  Along with the free video you will receive a tip insert from Kent explaining how to insert them in the holder properly and a few tips on doing it without having to remove the instrument cluster completely from the dash.
PLEASE NOTE: The free video included with these bulbs only covers installing the bulbs correctly in the holders for tight fit and how to modify the maximum brightness. The video DOES NOT cover removing the intrument cluster from your dash to get to those bulb holders. If you need that information you can purchase Kent's instrument cluster manual separately. You will also need special pull tools to remove the cluster safely. See related products below for the manual and tools.
These bulbs fit into the original holders perfectly. Here you see the comparison of the original bulb with the new LED bulb. All the light is focused forward on the LED bulb which in itself will concentrate more light on the dash instruments.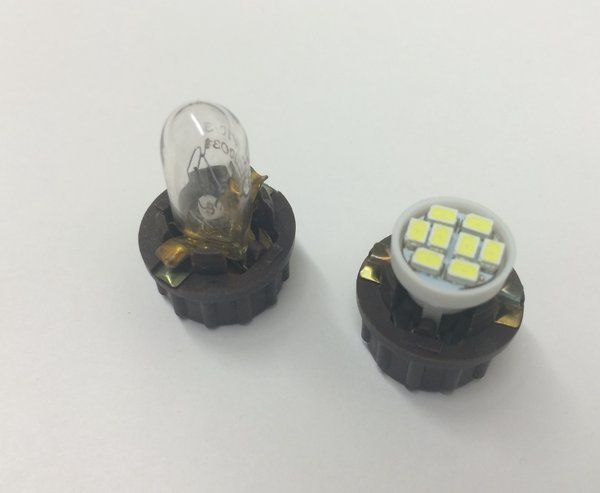 Not sure if you want bright white or warm white? If you want to experiment we offer a variety pack with both colors included and a couple extra FREE bulbs. See related products for more information.
WARNING: Some models will require the special dash hooks to pull the cluster out. You can do it by hand on the W123 and the 1985 and older W126 - BUT on the later W126 and the W201 and W124 models  you may not be able to get the cluster out of the dash without these special tools. See related products below to order separately. 
Related Products:
---