Determine what YOU really need! Get 3 warm white and 3 bright white bulbs with video instructions on how to modify intensity
Many of our customers are wondering whether they should get bright white or warm white LED bulbs for their dash lights. It is a personal preference, so you have to be careful not to just go with someone else's advice. Also, some of you are concerned that the LED's will be too bright in the dash. They are dimmable if your poteniometer is working properly, but they do not dim down as much as the original bulbs. So Kent figured out how to modify these LED's to reduce maximum brightness. That means you will have to "play around" to find out exactly the color and intensity that is your own personal preference. That is the purpose of this kit.
W123 W126 W201 W124 LED Dash Light Bulb Variety Pack w/ Instructions
$25.90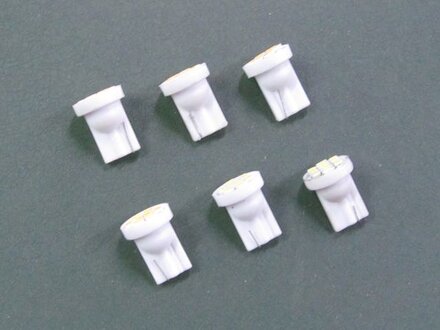 Product Details
This is what you will receive:
3 warm white LED bulbs (one extra free)
3 bright while LED bulbs (one extra free)
Tip sheet on installing without completely removing the cluster
PDF manual by Kent and Instrument Cluster Removal and Component Replacement
On demand video instructions on bulb holder problems and reducing maximum brightness
Why the "free" extra bulb in each color?  You only need two for light up the instruments in these models. Kent decided to include a third bulb in each color so you can experiment with altering maximum brightness without having to worry about damaging it. That is a very remote possibility so will will probably end up with a spare. If you have two Mercedes maybe you will want one in warm white and one in bright white. Many like the bright white in the W123 chassis as it needs all the light it can get !!!
If you already know what color you want you can purchase just two bulbs. See related products below:
WARNING: Some models will require the special dash hooks to pull the cluster out. You can do it by hand on the W123 and the 1985 and older W126 - BUT on the later W126 and the W201 and W124 models  you may not be able to get the cluster out of the dash without these special tools. See related products below to order separately. 
Related Products:
---