Fits all 300SD 300SDL 350SDL 380SE 500SEL 420SEL 560SEL 300SE 300SEL 1981 to 1991
126 sedan hood hinges are prone to problems when not lubricated and they are a common failure part. When these seize up due to rust the pin in the pivot joints will just break! The locking lever can also be damaged by rough and improper handling. If the hood is damaged in any way due to impact or flying open when driving these will need to be replaced. It is almost impossible to straighten them properly. This very nice undamaged and straight set will fix your hood fit problems. 
W126 Sedan Hood Hinge Set ( Used )
$195.00
Sale
$178.00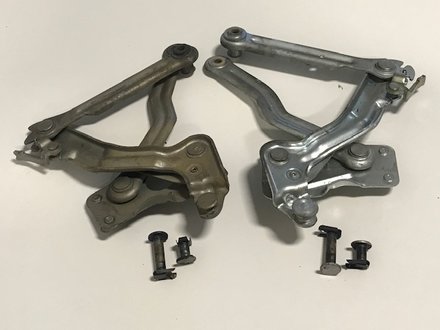 Product Details
Very good used hood hinge assemblies for both sides as shown. Only one available like this. The right side is painted silver. The left side is an unpainted NOS new part that was only on a W126 for a very short time.