Introduction to installing a second fuel tank and heating the oil on its way to the engine
This fuel tank and tank heat applications guide applies to all Mercedes 116, 123, 126, 201 and 124 chassis diesels from 1977 TO 1995 EXCEPT 300TD Station Wagons. When converting your Mercedes Diesel to WVO fuel, there are many things to think about and many choices to make. One of the most important, is deciding on what type of "fuel tank system" you should install. This can have a huge impact on your other components and how you install them. That is why I strongly encourage making all fuel tank related decisions before finalizing the final layout of any WVO conversion.
WVO Fuel Tank and Tank Heat Options For Mercedes Diesels by Kent Bergsma
$10.95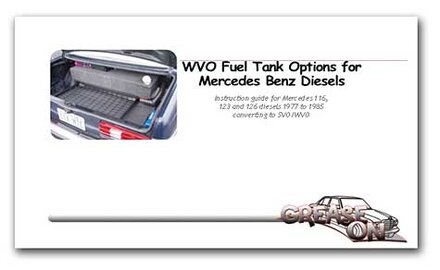 Product Details
There are numerous options such as just using the main tank, buying a custom tank, building your own tank, modifying an existing tank. etc. If you plan on a two tank system with a smaller purge tank then you have to consider plastic, aluminum, size, location and how to mount it. Of course, if you are purchasing a ready made kit some of that decision will already be made for you. If your desire is to "design and install" your own kit then I encourage you to make any fuel tank decisions first. Even if you are purchasing a commercial kit you may still have some leeway in the type, size and location of an additional tank.
The purpose of the manual is to guide you in making the correct fuel tank and tank heater decisions which are right for you. I will not tell you there is only one way to do it. There are enough variables for me to readily admit there is no one fuel tank configuration that is best for everyone. I will share with you all that I have learned doing numerous conversions on my own and others Mercedes Benz.
The choice between one or two tanks
What about heating the tank?
Use of plastic tanks
Modify a Summit Racing aluminum tank
Using old steel tanks and adapting them
Having a large aluminum wedge tank fabricated for you