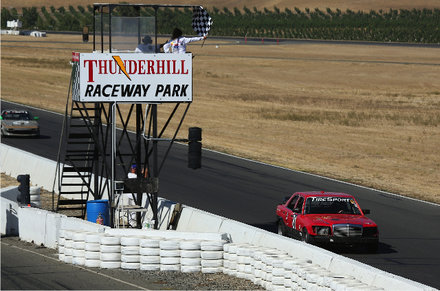 It's been a long and busy race season.  Our race at The Ridge with the all girls all star team we finished middle of the pack, no issues.  The Benz is just slow for Chumpcar.
However, last weekend we finished a LeMons race at Thunderhill in Willows.  There were 194 cars, we finished 24th overall and won Class C (the slowest/most unreliable class) by 14 laps!  We have earned a promotion to Class B.  Anyway, just wanted to let you know.
Hope the Mercedessource projects are going well! Your videos, tips, and tools have taken two rookie girl mechanics and turned us into skilled diesel mechanics.  We'll keep you updated with the build and the racing.  Love to see you guys meet us at a race!
Here is a picture of us taking the checkered flag last weekend (photo by Head On Photos).