1968 to 1976 Models 220, 230 4 cyl, 200D, 220D, 240D, and 300D sedans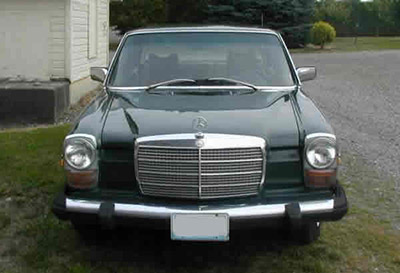 Recognition and Model Variations:
The Mercedes 115 chassis automobile was manufactured from 1968 to 1976. In U.S. version they all had a single large round headlight with a large yellow turn signal/marker lens right below the sealed beam headlight bulb These entry level Mercedes were produced only in four door sedan and two door versions. The coupes only came with a 6 cylinder gas engine. The sedans were fitted with four and five cylinder diesel powerplants. Mercedes 115 chassis owners praise the ride and handling and classic Mercedes styling. The diesel versions in particular are still seen on the road today as daily drivers.
Warning:
If you have a European Spec. Model most parts will interchange but there may be differences in headlights, bumpers, and engine parts.