A plugged filter inside your fuel tank can lead to hard starting and power loss
If you have changed your fuel filters and tuned your engine and are still dealing with hard starting issues and/or lack of power - don't forget to drain your fuel tank, remove the tank screen filter and clean or replace it. This is applicable to almost all Mercedes both gas and diesel from the mid 1960's to the mid 1990's.
Problem & Solution
Common among these chassis:
R107
W108 W109
W110 W111 W112 Sedan
W111 W112 Coupe
W113
W114
W115
W116
W123
W124
W126
W201
In the picture here you can see the filter I removed from my 1978 450SEL 6.9. When I acquired the car the previous owner could just not get it started. He even had a number of mechanics look at it. I knew there was trouble in the tank when I cut the main outlet fuel hose and gasoline just dribbled out. These type of screens were used for years. Plugged tank screens are even more common on diesel engined cars due to the problem of algae growth in the tank.
Removing the screen will require a special large socket. Kent builds a unique special tool right in our own shop. This socket can fit into tight places and works on both the tank screen and fuel tank level sending unit. Watch a quick video explaining the socket  Mercedes Fuel Tank Filter Screen Problems and Solutions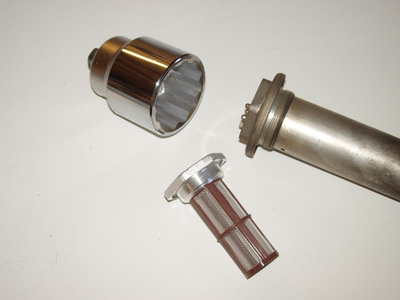 Sometimes the screen can be just cleaned and reinstalled, but many times it is so gummed up that it will need to be replaced. If your fuel tank is super rusty or all gummed up then it will have to be removed and boiled out at a radiator or machine shop or replaced with a good used one. Kent's on demand video will show you how to replace the fuel tank in the 116, 107, 123, 201, 124 and 126 chassis.
Enter 'Fuel Tank' in the search box to view all avaiable products.