GENUINE MERCEDES PART. Common source of undiagnosed lack of power issues.
Fits all diesel Sedans AND coupes only from 1977 to 1999 (Does not fit wagons!) including chassis 116, 123, 126, 201, 124, 140 and 210 chassis. 190D 240D 300D 300CD 300SD 300SDL 350SD 350SDL 300D 2.5 and E300D 1977 to 1999.  This is an important maintenance item.
123 116 126 201 124 140 210 Diesel Fuel Tank Filter Screen with New Seal
$38.50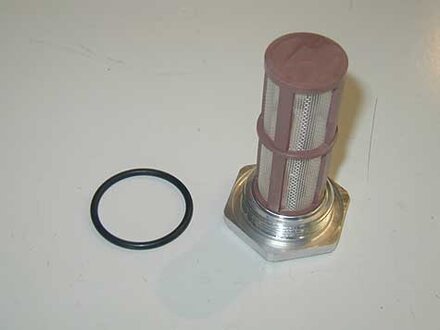 Product Details
This screen can become plugged with crud and algae and will lead to gradual power loss and eventual stalling of the engine. Many are not aware there is a filter screen in the bottom of the tank. You can change all your other filters and lines and still be perplexed as to why your engine is starving for fuel. Located just above the right rear axle shaft.
Kent modifes a special socket to remove the fuel tank screen - look below to order
You should also Replace the fuel flex lines at the same time. To see our 123 240D 300D Flexible Fuel Line Replacement Kit and our 126 300SD Flexible Fuel Line Replacement Kit look below.
Watch this video for details on the screen socket removal Mercedes Fuel Tank Filter Screen Problems and Solutions
Related Products:
---