FITS THE FOLLOWING: 123, 240D, 300D, 300TD and 300CD from 1977 to 1985. The original fuel lines on most late 70s and early 80s Mercedes Diesels were braided line and with age they do rot and develop slow leaks. If these have not been replaced in your 300D 300CD 300TD or 300SD turbo engine car then I recommend strongly you do it now before the lines give out and leave you stranded. This kit provides you with the parts you need to change all the engine fuel feed rubber lines with high quality high pressure hose and super quality new hose clamps.
123 240D 300D Flexible Fuel Line Replacement Kit
$64.50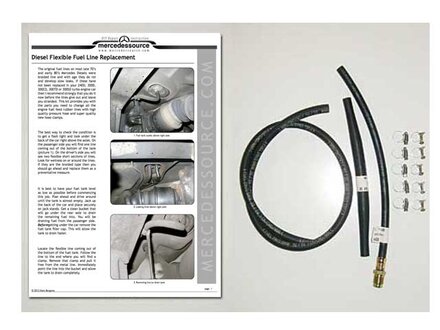 Product Details
This kit comes with 3 feet of high quality correct size fuel hose, one fuel tank outlet factory hose, one cigar return fuel line for turbo diesel engines 10.5 inches long, 10 quality Euro style hose clamps, and complete PDF installation instructions. (Check your length before ordering). PLEASE NOTE: These fuel lines are the factory rubber lines. The hoses will work fine when running straight vegetable oil, but they are not meant for high percentage biodiesel. We carry a variety of hoses specifically for that application. Use the search box to view all hoses. 
_______________________________________________________________________________
How to view the PDF digital instructions:
Once you complete the purchase of this product you will be able to download the digital instructions immediately when you are logged in and on your personal account page (click on My Account). Any PDFs will show up under My PDF Manuals. You will be allowed three downloads, so please save the file on your machine for backup.
_______________________________________________________________________________
Related Products:
---