GENUINE OEM FUEL TANK SCREEN -- ALL AFTERMARKET BRANDS DISCONTINUED.
Fits all 116 diesel 300SD, and 123 240D 300D and 300CD and all 126 chassis diesels 300SD 300SDL 350SD/L. 1977 to 1991 (Does not fit wagons!). Wiill NOT work on 107 chassis. Receive a Related Bonus-Product FREE!
123 116 126 Diesel Fuel Tank Screen Removal and Replacement Kit
$89.95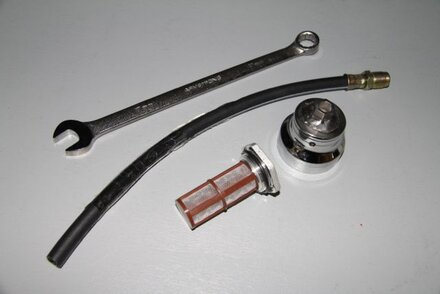 Product Details
This is an important maintenance item that you have heard Kent talk about before. Be sure to see his video by clinking on the link below.. This screen is located in the bottom of the fuel tank and can become plugged with crud and algae and will lead to gradual power loss and eventual stalling of the engine. Many are not aware there is a filter screen in the bottom of the tank. You can change all your other filters and lines and still be perplexed as to why your engine is starving for fuel. Located just above the right rear axle shaft. But it is not easy to get out without the right tool!!
This kit includes the following:
New Genuine Mercedes Brand Fuel Tank Screen
Custom Socket by Kent Bergsma to Remove Screen
New Outlet Fuel Hose of Screen
 17 mm combination wrench to use on special socket ( also excellent wrench for alternator bolts and injector hard line fittings).
PLEASE NOTE:  The wrench in this kit will only work on the special socket.  You will also need a 19 mm wrench to loosen and tighten the fuel hose fitting. Sorry NO WRITTEN INSTRUCTIONS available at this time. 
  LINK TO VIDEO: Problems Associated with Mercedes Fuel Tank Screen Filters
Location of Fuel Tank Screen: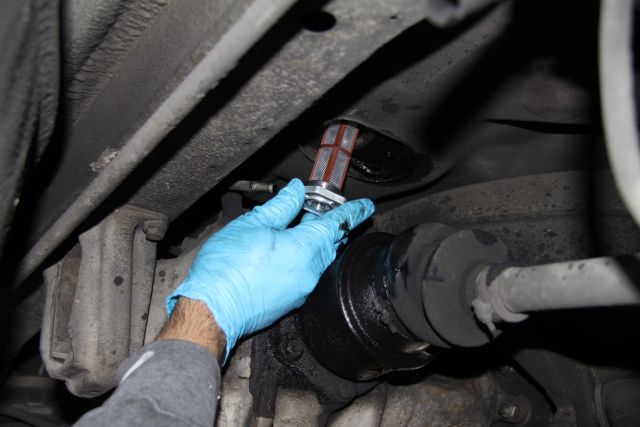 New Hose threaded into New Filter: