Can be quickly mounted in engine compartment to get home when fuel related problems occur on the road - great for purging
This unique tank not only functions as an emergency fuel tank, but it can also serve to help troubleshoot diesel engine performance problems as well as complete a clean and efficient diesel purge. Carry this tank in your trunk full of two liters of diesel along with some basic tools to save the day when you have fuel problems on the open road!
Diesel Purge and Fuel Emergency 2 Liter Fuel Tank
$42.50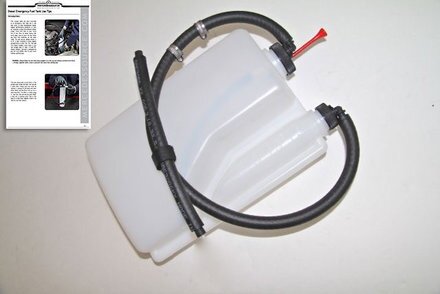 Product Details
To watch another video on the design of the tank click on this link:  Mercedes Diesel Roadside Emergency Fuel Tank: Design and Function
The tall narrow design allows it to fit in tight locations in many engine compartments in the 116, 123, 126 and 124 chassis models ( note there is just not enough room in most 115 and 201 chassis diesels)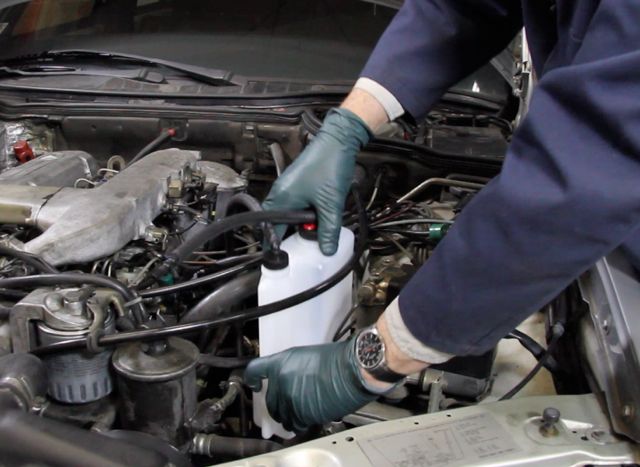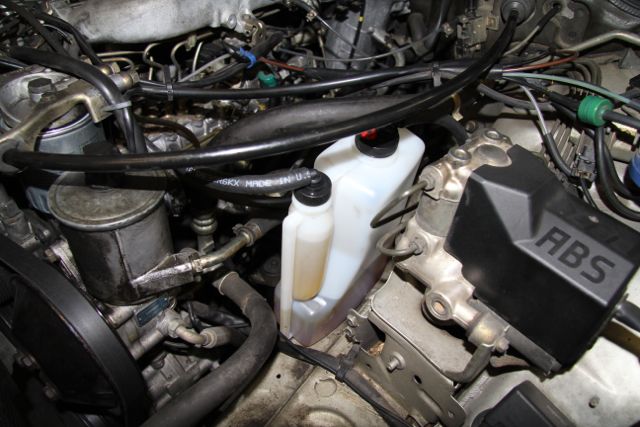 There are a couple other unique features Kent has added to his design.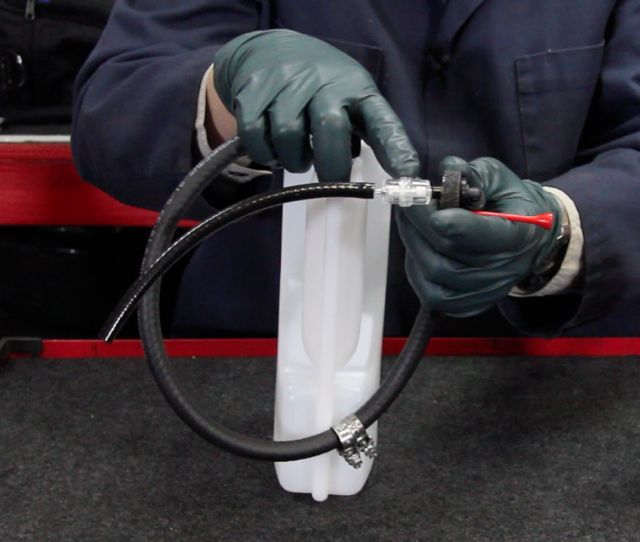 1. ONE ONLY pre-filter installed in pickup hose  ( old instructions say an extra filter included but NOT SO NOW
2. Vent plug (golf tee) used to close off vent hole to prevent leaks
3. Hose clamps normally not needed but two are included if you need a super secure connection
4. 2 long pieces of 5/16 fuel hose included to reach all injection pumps
5. One rubber hose plug ( to plug off hose from dripping fuel if needed)
Complete PDF Instructions available in your account to download
BONUS: One 5/16 inch barbed hose coupling fitting to prevent spillage from the fuel hoses both during use and during storage (plug the two hoses together) and one extra set of black tank caps when storing the tank to prevent fuel fume smells if needed.
The emergency tank is shipped fully assembled with small parts in a separate bag. Kent includes complete instructions on how to connect this tank to your engine.
WARNING: This is for emergency and diagnosis use only on diesel engines. DO NOT USE WITH GASOLINE!!!
_______________________________________________________________________________
How to view the PDF digital instructions:
Once you complete the purchase of this product you will be able to download the digital instructions immediately when you are logged in and on your personal account page (click on My Account). Any PDFs will show up under My PDF Manuals. You will be allowed three downloads, so please save the file on your machine for backup.
_______________________________________________________________________________