ONLY SHIPPED UPS GROUND - NO INTERNATIONAL
WORKS ON THE FOLLOWING All diesel 110, 115, 116, 123, 126, 201, and 124 chassis. 190D, 200D, 220D, 240D, 300D, 300CD, 300TD, 300SDL, 350SD, 350SDL, E300D.When it comes to diesel engine performance this is your best bang for the buck. I have seen this medicine work wonders on Mercedes diesels. Less smoke, better start, less injector nailing, better fuel economy, and more power are often the result.
6 PACK Lubro Moly Diesel Purge Injector Cleaner
$59.95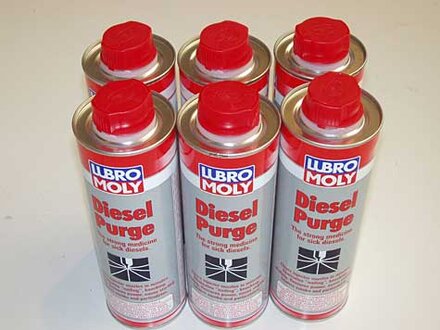 Product Details
This Diesel Purge is a very high concentrate cleaner than is run through the engine directly from the can. It is not put in the fuel tank. It usually takes 15 to 25 minutes to run the entire can through the engine. If your engine has been neglected you will want to run two cans through.
Normal recommendation from my experience is one can every 6 months for peak performance. The last time we did the purge on my sons 240D he couldn't believe the extra power going up hills. Please note: Diesel purge will not cure mechanically sick engines so I can not guarantee results. It also works great to troubleshoot load knocking noises in a diesel engine. See Kent's on demand video explaining the technique. 
This only includes 6 cans of diesel purge, all 500 ml cans. There are NO instructions included however we sell a PDF download of the instructions below. 
We also sell a kit with detailed usage instructions - see related products below.
PLEASE NOTE: Can only be shipped UPS GROUND. NO INTERNATIONAL. Extra packaging charges may apply. It some cases it may be shipped in its own box depending on the size of your order and the other products included.  
Related Products:
---