1979 to 1987 300TD Wagon Only - 114 115 Chassis 1969 to 1976 - with special tool included
This kit includes a New Mercedes OEM fuel tank filter screen along with a special tool I have made to remove and install it. It will sure save you the time and expense of running out and buying a great big Allen wrench. With my welded tool you only need to use a metric socket and wrench to remove the filter screen. If you have not done so, you should replace this screen. You can inspect your fuel tank for algae contamination at the same time. Comes with new o-ring seal. Fits all 115 chassis 220D, 240D and 300D to 1976 and all 123 300TD station wagons from 1979 to 1985.
123 and 124 300TD Wagons Only and 114 115 Chassis Fuel Tank Screen Replacement Kit
$59.50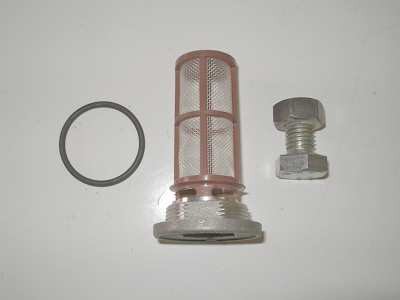 Product Details
Installation notes: On wagon tanks the only way to drain them completely is through the screen hole. First, try to drive the car until you only have about 1 gallon left in the tank. If you try to drain a full tank you will be sorry.... Get a very large drip pan (because there will be spray) and just loosen the strainer enough so fuel runs out slowly. Then let it drain by itself until it is just dripping. Then remove the strainer the rest of the way.
Watch this video for details on the screen socket removal Mercedes Fuel Tank Filter Screen Problems and Solutions