Fixing brakes is not difficult and can save you hundreds
Recently, I set out with the goal to provide our customers with all the resources they would need to troubleshoot and repair the brake systems on their own cars. As your favorite Benz ages brake problems will arise and they can sometimes be difficult to diagnose. Since brakes are a safety related system it is also VERY important that any repair work be done properly and with great care.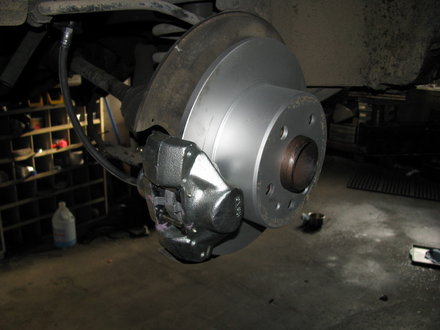 Problem & Solution
Common among these chassis:
R107
W108 W109
W110 W111 W112 Sedan
W111 W112 Coupe
W113
W114
W115
W116
W123
W124
W126
W201
To meet this goal I knew I would have to produce clearly written and easily understood instruction manuals, provide special tools and equipment to make brake service easier, and offer the highest quality brake parts at affordable prices. Good brakes have "saved my bacon" numerous times both in airplanes and cars. Even my three kids who have all driven Mercedes can recount one or more times where the combination of Mercedes handing and braking has kept them out of an accident. I cannot stress enough the importance of maintaining your brake system to factory new condition.
We carry rebuilt brake calipers, flexible brake hoses, new rotors, new pads, and emergency brake parts - most of which come with D.I.Y. instructions are no extra charge
Please see the related parts links below that will direct you to these resources. Or use our search box and enter you chassis number along with the type of brake part you are looking for. 
Here is to safe motoring, Kent Bergsma