The best way to flush your brake system fast without creating a mess in the process!
Born out of frustration this twin chamber plastic bottle has solved two of Kent's biggest head aches when brake bleeding or flushing brake systems. This bottle will allow you to see exactly when the fluid is running clear and it is large enough to gauge and complete a full four wheel brake flush without having to empty the container between wheels. Now that is the way it should be done! If you use this capture bottle along with Kent's DIY pressure bleeder you can cut your brake flush time in half.... and changing your car's brake fluid should be done every two years!
Twin Chamber Brake Fluid Capture Bottle
$22.75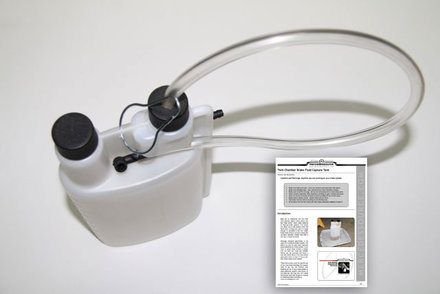 Product Details
APPLICATION: The end hose fitting on this tank fits almost all Mercedes passenger cars from the late 1960's to the mid 1990's. If you a doing a different car or your fitting is larger we have included an extra adapter with larger diameter hose.
NEW KEY FEATURES recently added.  Kit now comes with a hook that will allow you to hang it from your front or rear suspension. Also included is a right angle rubber fitting to make it easier to get on and off your bleeder nipple.  Notice you can even snap the hose end fitting into the side of the bottle to keep the old brake fluid from leaking out the end of the hose.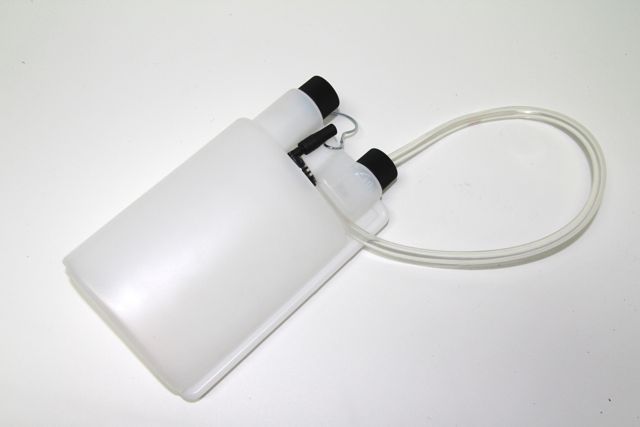 Note how well the twin chambers show the difference between the older dark fluid and the new lighter colored brake fluid in the upper chamber. Fluid comes into the small chamber first and then moves out the top and into the bottom of the larger chamber through a long tube on the side.  You can clearly see when the new fluid is entering the bottle.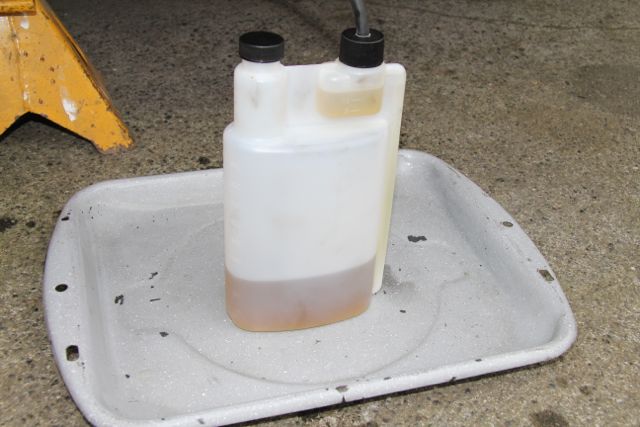 Although pressure brake bleeding is recommended, this bottle can also be used when manually pump-bleeding your brake system. If you want to pump bleed without a helper who can open and close your bleeder fitting, you can purchase and install a one way check valve in the hose (check auto parts store) to turn it into a one-man pump bleeder. Includes general use PDF instruction for using this bottle. DOES NOT INCLUDE COMPLETE INSTRUCTIONS FOR BLEEDING BRAKES.  If you need DETAILED instructions on bleeding or flushing your fluid see Kent's manual sold separately. 
Works great with out custom wrench so you can leave the tires on the car when doing a brake fluid flush. See below:
_______________________________________________________________________________
How to view the PDF digital instructions:
Once you complete the purchase of this product you will be able to download the digital instructions immediately when you are logged in and on your personal account page (click on My Account). Any PDFs will show up under My PDF Manuals. You will be allowed three downloads, so please save the file on your machine for backup.
_______________________________________________________________________________
Related Products:
---