As of Jan. 2020 this pressure tank can now perform a cooling system pressure leak test as well . Kent's 2-in-1 invention. See below to purchase the pressure testing cap.
When used for bleeding or flushing your brake system, a single person can do a rapid fluid flush!  No mess and very efficient. Will work on all Mercedes from 1968 to 1995 - Also select 1960's models and most later chassis up to 2006 see list below: 25-minute video instructions are now included. Our pressure bleeder is modified and put together here in our shop. We take a specialized pump sprayer and add a reliable pressure gauge and a modified cap that will screw on the top of your master cylinder reservoir. We add a splice fitting 6 inches from the end of the hose when the cap attaches. This will allow you to connect different attachments to this pressure tank. Kent is constantly working on new uses for this "controlled" pressure tank. Currently, we have available an attachment kit and instructions that will allow you to set the injection pump timing on your older Mercedes diesel. See related products below for more information on this IP timing attachment kit and for other attachments available. Also listed below are other brake bleeding DIY kits, tools and supplies that can help you get your brakes fixed and operating at peak performance.  As seen on Cherry. CLICK HERE to watch the full video series on Kent's R107 rolling restoration.
Pressure Brake Bleeder
$64.75
Product Details
Pressurized system flushing or air bleeding is the preferred method, particularly on older cars where you would want to avoid damaging the seals in an old master cylinder or on newer ABS equipped cars where pressure bleeding is the only reliable way to make certain you get all the air out of your ABS controller and brake lines.  
Our pressure bleeder has a couple features not found on others in this price range. It has a release valve on the side that allows you to bleed off pressure without loosening the cap. That is very important as you would not want brake fluid spraying out and getting on your car's paint.  It also has the end change splice fitting as described above and the cap has a special standpipe that prevents overfilling the brake master cylinder reservoir. The bleeder tank also includes Kent's Pressure Brake Fluid Bleeder Instructions in PDF format.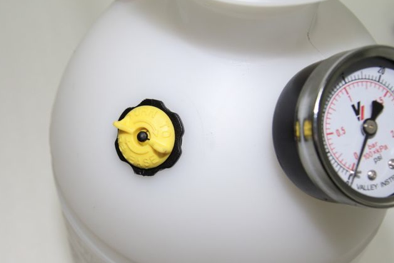 JANUARY 2020 PRODUCT REVISION: We have revised the final section of hose with the attachment to the brake reservoir cap. This change was made to make it easier to remove the cap from the main hose, both to make it easier to screw on the brake reservoir and to change to one of our other attachments ( currently the new cooling system pressure test cap. Watch the video above by clicking on the white arrow and Kent will explain more.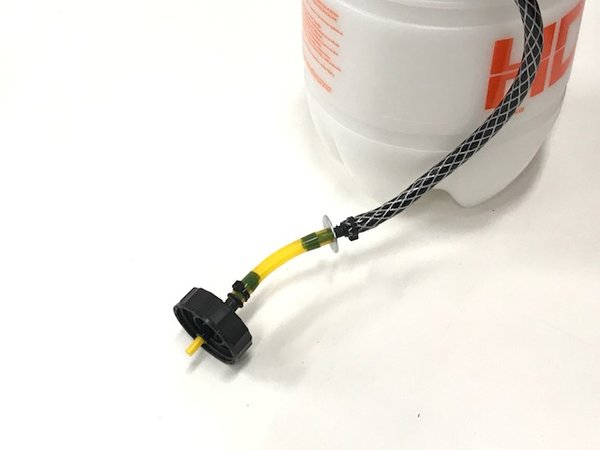 Kent has developed some extras that can help you speed your brake bleeding process. He has also written a manual on how to work on your own brakes. Check out related products below for more information. 
Any time you bleed your brakes you will need absorbent pads or catch clothes for any spills. We have a great pack of incredibly absorbent pads you can add to your order. 
Also works on the following models from 1996 up through 2004 as well as the S Class W220 all the way up to 2006 Note: Will not work on the W211 chassis with SBC (sensotronic brakes)
Mercedes-Benz 500SEC

Mercedes-Benz 500SEL
Mercedes-Benz 600SEC
Mercedes-Benz 600SEL
Mercedes-Benz 600SL
Mercedes-Benz C220
Mercedes-Benz C230
Mercedes-Benz C240
Mercedes-Benz C280
Mercedes-Benz C32 AMG
Mercedes-Benz C320
Mercedes-Benz C36 AMG
Mercedes-Benz C43 AMG
Mercedes-Benz CL500
Mercedes-Benz CL55 AMG
Mercedes-Benz CL600
Mercedes-Benz CLK320
Mercedes-Benz CLK430
Mercedes-Benz CLK500
Mercedes-Benz CLK55 AMG
Mercedes-Benz E300
Mercedes-Benz E320
Mercedes-Benz E420
Mercedes-Benz E430
Mercedes-Benz E55 AMG
Mercedes-Benz G500
Mercedes-Benz S320
Mercedes-Benz S350
Mercedes-Benz S420
Mercedes-Benz S430
Mercedes-Benz S500
Mercedes-Benz S55 AMG
Mercedes-Benz S600
Mercedes-Benz SL320
Mercedes-Benz SL500
Mercedes-Benz SL600
Mercedes-Benz SLK230
Mercedes-Benz SLK32 AMG
Mercedes-Benz SLK320
Here is a picture bleeding the brakes on a 2000 E430.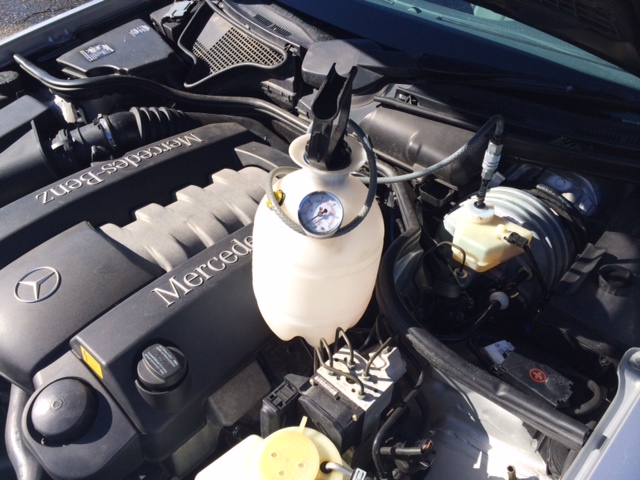 It is interesting that the same cap threads have been used on almost all master cylinder reservoir caps from the early 1960's up to the mid 2000's. Below are a couple pictures showing how the pressure bleeder cap fits on some early 1960's models like the W108, W109 W110, W111, W112 and W113 chassis. If you have a reservoir that looks like one of the ones below then this pressure tank will work. Just be sure and not use too much pressure on these older reservoirs as they may leak fluid due to old rubber seals.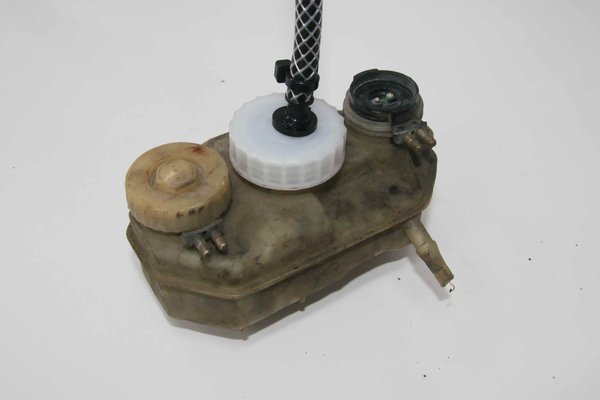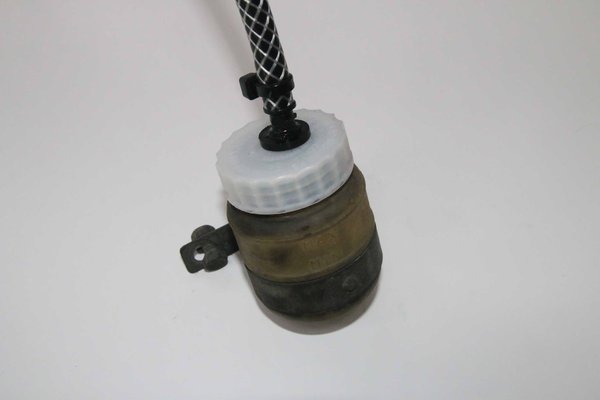 IMPORTANT NOTICE: Beginning in 2020 Kent has devised another attachment that can connect to this pressure tank allowing you to do a radiator and cooling system pressure test. See related products below to purchase this separately
Here you can see the tank hooked up to a Coolant Expansion Tank.
Related Products:
---