Please study application notes below: Some chassis are year specific - others are vin number specific - FREE INSTRUCTIONS
Comes with Kent's brake bleeding pdf manual. Brand new brake master cylinder for most of the later 1960's and early 1970's models. Unless you know your master cylinder has been changed in the last 10 years it is best to replace it BEFORE it fails. This master cylinder comes new in the box with the seal for the booster. It will fit the following years and models only. Be sure to check your vin number if that is application. DO NOT order until you confirm this part will fit. If you have questions please email us first.  To watch Kent's Youtube video for a full explanation click on this link: https://youtu.be/-mfSJVE0VFU
Late W113, W108, W109, Early R107, Some W114 and W115 Brake Master Cylinder
$99.75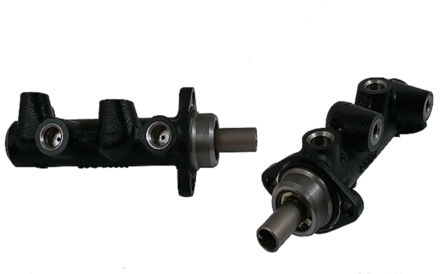 Product Details
Fits the following
Mercedes-Benz 220 1968 to 1973
Mercedes-Benz 220D all
Mercedes-Benz 240D up to vin 102742
Mercedes-Benz 250 1968 to 1972
Mercedes-Benz 250C 1970 to 1972
Mercedes-Benz 280S  1968 to 1971
Mercedes-Benz 280SE 1968 to 1973
Mercedes-Benz 280SEL  1968 to 1973
Mercedes-Benz 280SL 1968 to 1971
Mercedes-Benz 300D 1975 to 1976 W115 up to vin 029141
Mercedes-Benz 300SEL  1968 to 1973
Mercedes-Benz 450SL  up to vin 021171
Mercedes-Benz 450SLC up to vin 007849

 

How to view the included free on-demand Manual:

Once you complete the purchase of this product you will be able to download the manual immediately when you are logged in and on your personal account page (click on My Account). The PDFs will show up under My PDF Manuals. You will be allowed three downloads, so please save the file on your machine for backup.

Important note: This PDF may or may not contain all the information you will need to solve your specific problem. Please read the description carefully and make certain it applies to your particular Mercedes. If you are not certain please contact us first. Due to the nature PDF download manuals or instructions we can not issue a refund if you purchase in error or assume it contains information it does not. Please keep in mind that no follow-up technical support is implied or offered after purchase.
Related Products:
---