For use on most Mercedes from 1968 to 2004(6) See List - UPS Ground Shipping ONLY! - 25 minute Video instructions now included
For use on most Mercedes from 1969 to 2006 (see exceptions below)- UPS Ground Shipping ONLY! Buy the complete kit and save $$. This is almost everything you need to do a fast, clean and efficient brake fluid flush on your older Mercedes Benz passenger car. See detailed list of applicable models listed below. Please note the pressure tank now includes a splice fitting in the hose that will allow you to add different attachments in the future (not shown in picture). Kent is always working on new ways to use this pressure tank. See related products below for updates.
Complete Pressure Brake Bleeding and Flushing Kit w/ Instructions
$104.75
Sale
$88.00
Product Details
Included in the kit are the following five (5) items. To learn more about each one click on the title link.
Complete assembled Pressure Brake Bleeder Tank.  This is assembled from a one-gallon garden sprayer. The complete bleeder is available separately.
Compete assembled brake fluid twin chamber capture tank. Designed by Kent and truly a unique and highly useful product. This can be purchased separately. 
I liter Kent's favorite DOT4 moisture-resistant brake fluid.
Pressure Brake Fluid Bleeder Instructions and Twin Chamber Capture Tank instructions in PDF format.
Three pairs of nitrile gloves. Always wear gloves when bleeding brakes. 
Custom made in our own shop. Please, no expedited shipping.
JANUARY 2020 PRODUCT REVISION: We have revised the final secton of hose with the attachment to the brake reservoir cap. This change was made to make it easier to remove the cap from the main hose, both to make it easier to screw on the brake reservoir and to change to one of our other attachments ( currently the new cooling system pressure test cap. Watch the video above by clicking on the white arrow and Kent will explain more.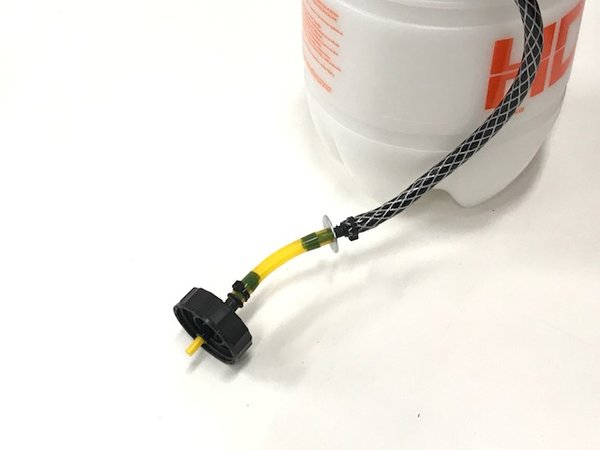 THIS KIT CAN ONLY SHIP UPS GROUND.  If you choose another shipping method the order will be held. 
_______________________________________________________________________________
How to view the PDF digital instructions:
Once you complete the purchase of this product you will be able to download the digital instructions immediately when you are logged in and on your personal account page (click on My Account). Any PDFs will show up under My PDF Manuals. You will be allowed three downloads, so please save the file on your machine for backup.
_______________________________________________________________________________
Any time you bleed your brakes you will need absorbent pads or catch clothes for any spills. We have a great pack of incredibly absorbent pads you can add to your order.  
NOTE: Works on all Mercedes passenger cars from 1968 to 1995
Also works on the following models from 1996 up through 2004 as well as the S Class W220 all the way up to 2006 Note: Will not work on the W211 chassis with SBC (sensotronic brakes)
Mercedes-Benz 500SEC
Mercedes-Benz 500SEL
Mercedes-Benz 600SEC
Mercedes-Benz 600SEL
Mercedes-Benz 600SL
Mercedes-Benz C220
Mercedes-Benz C230
Mercedes-Benz C240
Mercedes-Benz C280
Mercedes-Benz C32 AMG
Mercedes-Benz C320
Mercedes-Benz C36 AMG
Mercedes-Benz C43 AMG
Mercedes-Benz CL500
Mercedes-Benz CL55 AMG
Mercedes-Benz CL600
Mercedes-Benz CLK320
Mercedes-Benz CLK430 
Mercedes-Benz CLK500
Mercedes-Benz CLK55 AMG
Mercedes-Benz E300
Mercedes-Benz E320
Mercedes-Benz E420
Mercedes-Benz E430Mercedes-Benz E55 AMG
Mercedes-Benz G500
Mercedes-Benz S320
Mercedes-Benz S350
Mercedes-Benz S420
Mercedes-Benz S430
Mercedes-Benz S500
Mercedes-Benz S55 AMG
Mercedes-Benz S600
Mercedes-Benz SL320
Mercedes-Benz SL500
Mercedes-Benz SL600
Mercedes-Benz SLK230
Mercedes-Benz SLK32 AMG
Mercedes-Benz SLK320
Here is a picture bleeding the brakes on a 2000 E430.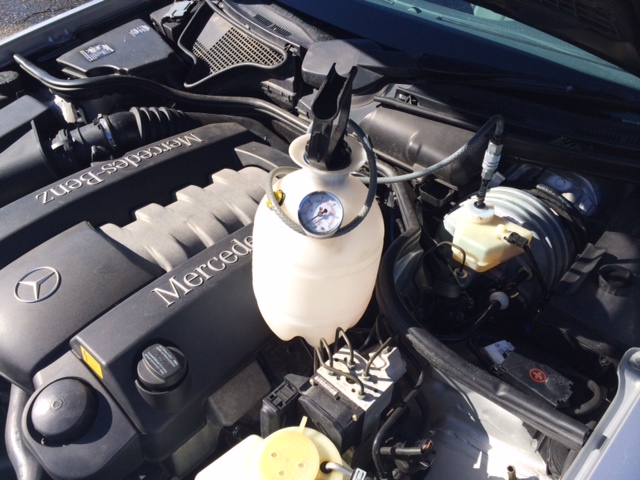 See related products below to purchase other brake-related products or to purchase items separately.
Related Products:
---