Comes with HOUR LONG VIDEO step-by-step instructions. Requires pressure tank for accurate and consistent results
Kent's procedure uses the factory recommended "drip tube method" but with a "twist." He has devised a way to get accurate and consistant IP timing results while trying to get the drip tube to drip at one drip per second exactly when it should! Precise accuracy comes from providing constant and steady low fuel pressure to the injection pump.  This is acheived by using a small pressurized tank filled with diesel fuel and attached to the inlet of the small plastic pre filter. This method also makes it very easy for just one person to set their own injection pump timing without additional hands. 
OM616 and OM617 Diesel Engine HIGH Pressure Injection Pump Timing Kit
$48.00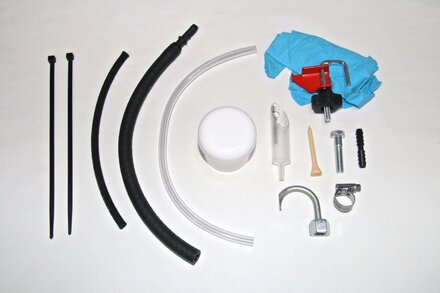 Product Details
Kit includes the following:
Special hose to attach to pressure tank and to engine lift pump
1 Hose clamp for attachment hose
Custom made drip tube to connect to injection pump
Special red hose clamp off tool  (either 1 inch or 1/2 inch)
Short piece of injector return hose
1 golf tee
2 oz. container to catch diesel drips during timing
Extra splice fitting with zip ties ( this will allow you to use this new kit with your old pressure tank that does not have a splice fitting)
Shoulder bolt to prevent diesel fuel leaking from your cars fuel tank when hose is disconnect
Catch tube and clear hose to prevent fuel spills from the drip tube during adjustment
Step-by-step video instructions by Kent Bergsma
NOT INCLUDED IN THIS KIT: pressure tank for diesel fuel ( see related products below to order separately).  Note that this tank can also pressure bleed your brakes. So if you purchase the recommend tank that Kent builds in his shop you will be able to get "double duty" out of it. Kent is currently working on other attachments for this pressure tank that can accomplish addition testing and cleaning jobs on your car. 
OTHER TOOLS AND SUPPLIES YOU WILL NEED TO HAVE ON HAND:
13 mm curved wrench to get to the injection pump mounting nuts
Deep 27mm or 1/16 inch socket and long ratchet wrench to turn engine over by hand
Heat shield crush washers and injector return hose if you plan to loosen or remove your fuel injectors.
Good assortment of metric hand tools
PLEASE NOTE: Although it is possible to use this kit without a pressure tank to adjust injection pump timing, some of the pieces in the kit are designed specifically for use with our tank. The instructions that come with this kit are also specific to using Kent's pressurized method of IP timing.  
Related Products:
---