Designed by Kent - Now he likes under car fluid changes! :-) Full 20 minute video drain and fill instructions included. Please read important note on the revision made on 3/3/20.
This tank works amazing! Put in the heavy rear end or trans fluid. Pump up the pressure. Stick the non-fall-out end in to fill hole... and just push on the valve in the handle of the filling wand. If you put the right amount of fluid in the tank you can "just walk away." A custom pressure gauge is installed so you know exactly how much pressure you are using. By varying the pressure and the valve opening, you can control the fill rate right down to a trickle! This custom tank will come with Kent's 20-minute on-demand video on how to flush and fill with this tank.  Flushing information is only available with the purchase of this tank or the on-demand video. The video is included at no extra cost. Watch Kent's Youtube video below for a sneak peek at how this is done.
Easy-No-Mess Rear End and Manual Trans Fluid Fill Tank
$48.50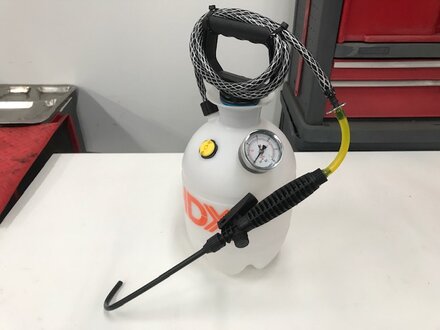 Product Details
NOTE IMPORTANT REVISION ON 3/3/2020: The valve shown in the instruction video is no longer used. We are now custom making a filling wand from the sprayer. We curve the end so it will hook into the fill hole in the rear end or manual transmission.  Watch the second video so see the wand used with a smaller tank. You will be receiver the larger one-gallon tank as shown here. 
Related Products:
---