Fits 220D 240D 300D 300CD 300TD 300SD
Fits all Diesels from 1965 to 1985
615 616 617 Diesel Injector Heat Shield washers - 10 PACK with INJECTOR REMOVAL instructions!
$19.95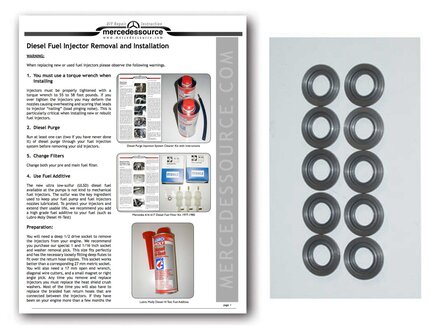 Product Details
Set of 10 fuel injector heat shields washers. Fit all Mercedes all cast iron diesel engines from the mid 60s 190D up to the 1985 300D and 300SD turbo. For best performance these must be change every time your remove your injectors to clean or replace. If you have a four cylinder order 2 packs. That will give you a total of 20 or 5 injector service cycles. Comes with complete instructions.
Instructions are available as a PDF download when you purchase this product.
_______________________________________________________________________________
How to view the PDF digital instructions:
Once you complete the purchase of this product you will be able to download the digital instructions immediately when you are logged in and on your personal account page (click on My Account). Any PDFs will show up under My PDF Manuals. You will be allowed three downloads, so please save the file on your machine for backup.
_______________________________________________________________________________